The Wats (temples) and Chedis are scattered over a huge area, brick walls and Buddha's images littering the earth, providing glimpses of 17th century Siam. Ayutthaya, 76 kms north of Bangkok, is easily reached by expressway and well worth the visit. Endeavour to enjoy the ancient Royal capital over 2 days allowing time to avoid crowds, enjoy dinner and explore when the sun is less relentless.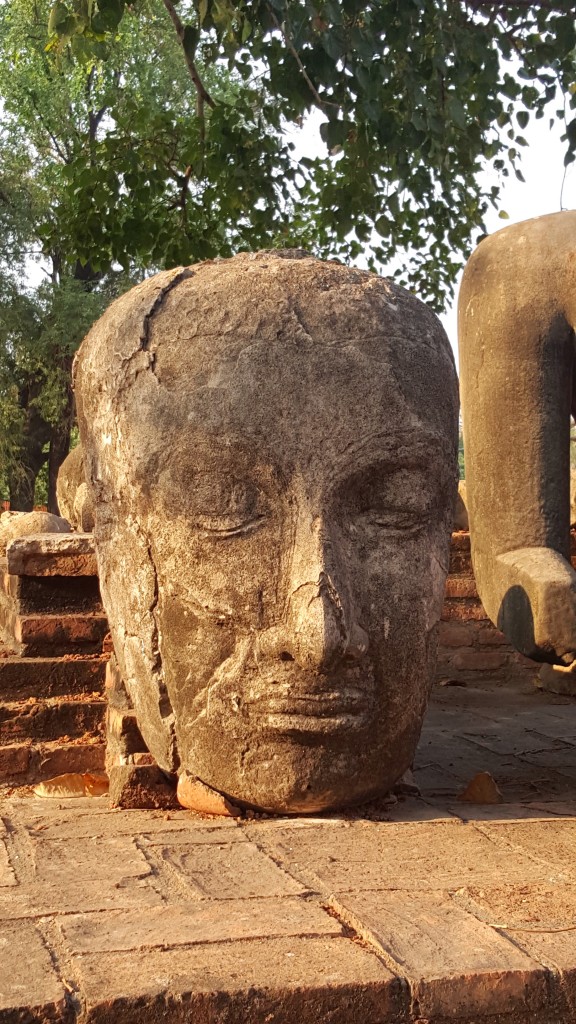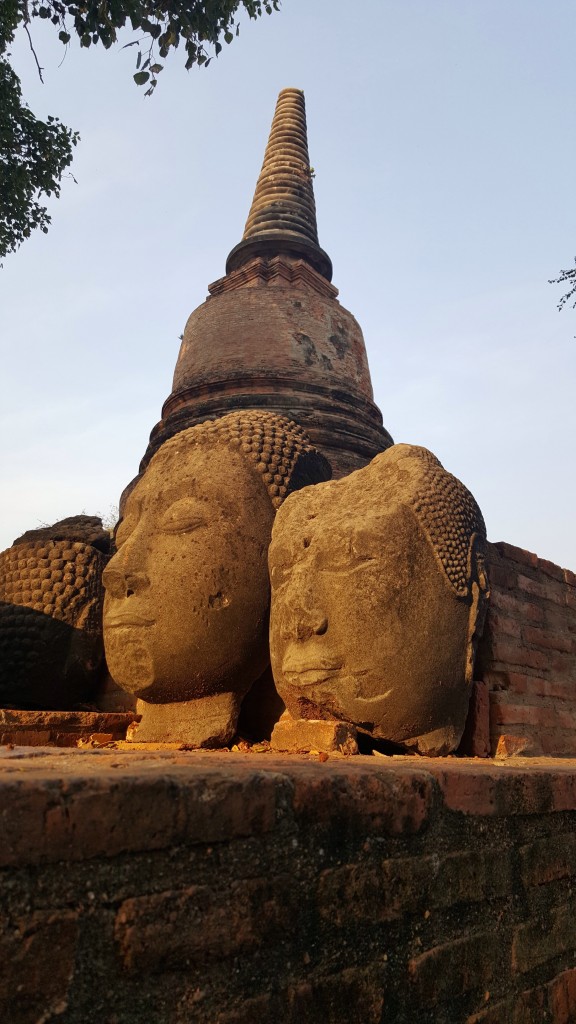 There are literally 100's of sites, in various stages of ruin, or discovery. Mounds peeking through the surface, some remaining dormant, crumbling and rising, buildings once used for ordinations (ubosot) and sermons (vihara) marked for restoration or preservation, adorn the 2500 square km or so that make up the greater Ayutthaya area. Each harbour a story and a snapshot of a once Royal kingdom interwoven with intrigue, romance and betrayal. Stories of kings and queens, would be heirs and fallen loved ones, which, when pieced together, allow history to weave complex and fascinating tales. Take your pick and enjoy as Ayutthaya welcomes and educates. We have chosen a private guide for our 2 day trip from Bangkok however many chose to hire bikes and with maps navigate the terrain. It's 37 degrees today and the luxury of air conditioning provides welcome relief from the heat as does a continual supply of ice cold water and cold towels. I've chosen a few of my favourites however if you have the luxury, plan your own itinerary from the many sites and explore.
Wat Yai Chaimongkon greets with a reclining Buddha 25 metres long resting on one arm, draped in saffron robes. With donations worshippers can drape more cloth onto the huge body and try to stick gold leaf onto statues. It can be a challenge to unstick the thin gold paper from your fingers in the humidity and coaxe it to leave your skin and attach it to the surface of the image of your choice.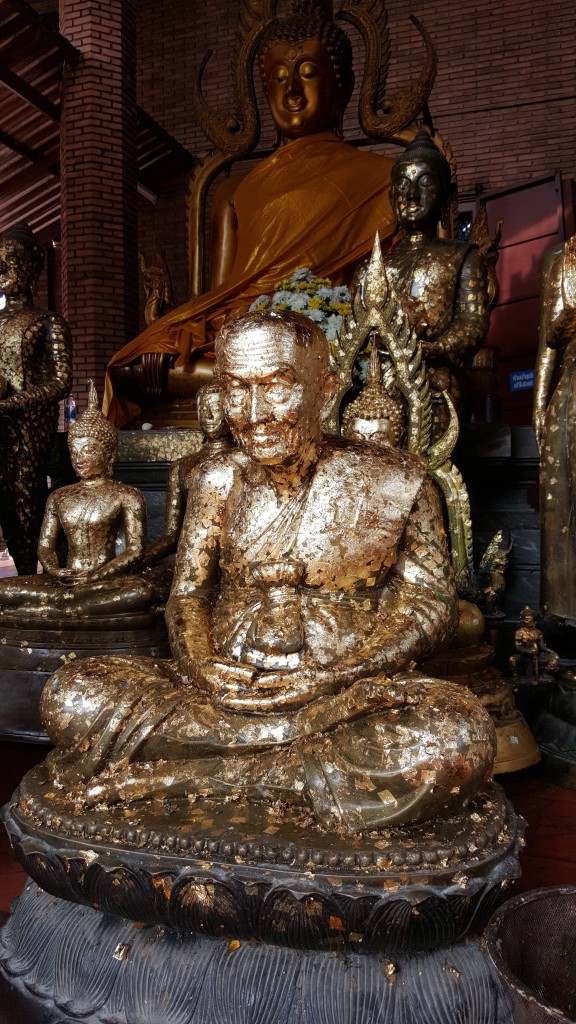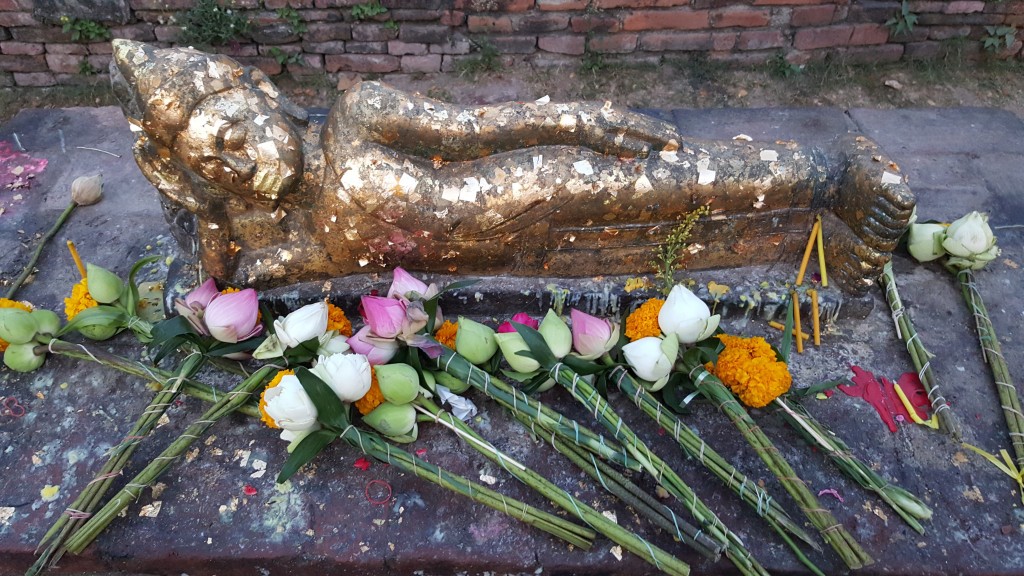 There seems to be more gold on people's soles, feet and skin. Incense offered in sticks of three complete the offerings. This is a working wat where donations are put are to good use, as they are in all monasteries and temples, contributing to food, education, upkeep … 108 Buddhas draped in golden cloth are scattered throughout the grounds. In Thailand, it is always 108. When there seem too many to count, beads around the neck, pieces of candy in a bag, Buddhas in the grounds … 108.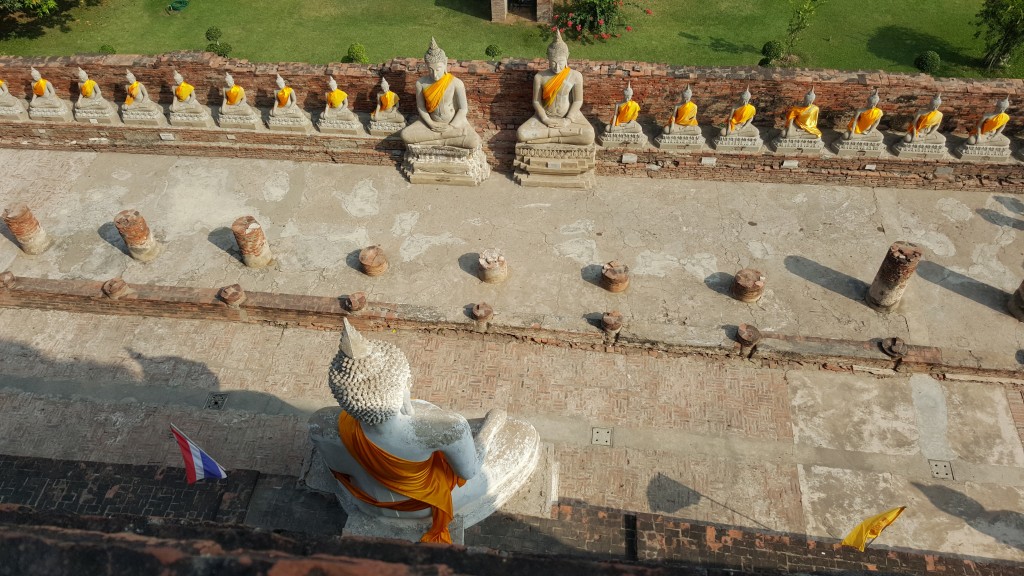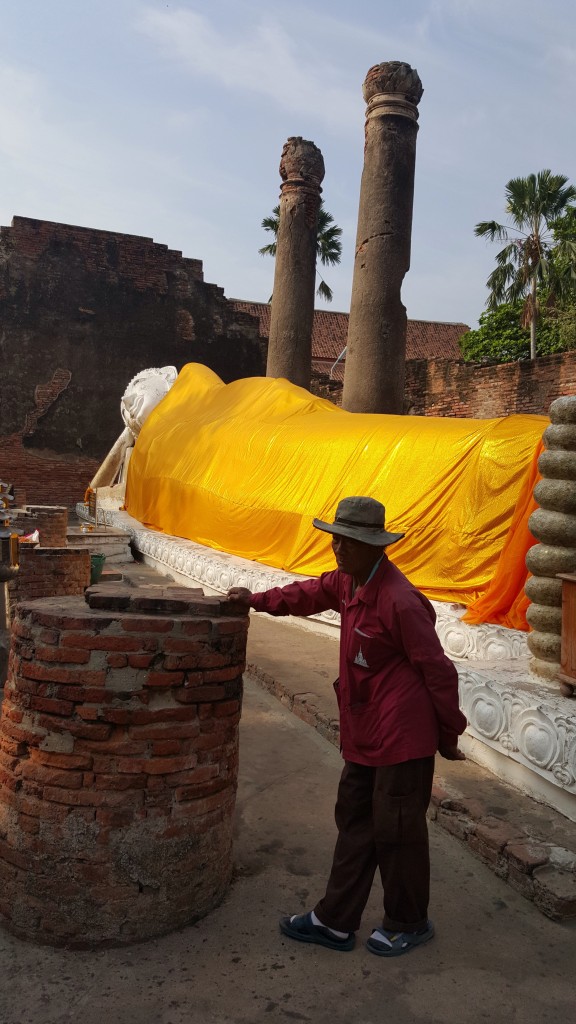 There is a different Buddha image for people born on different days of the week. The reclining Buddha is my image, born on a Tuesday indicative of a temper that needs to escape and relax in order to compose. How do they know this! My partner a head full of snakes. Leave them alone and they are OK, mess with them and … How do they know? This according to our guide . His stories entertain with a dry sense of humour as he provides the Thai interpretation as well as the explanations revered in Buddhist teachings.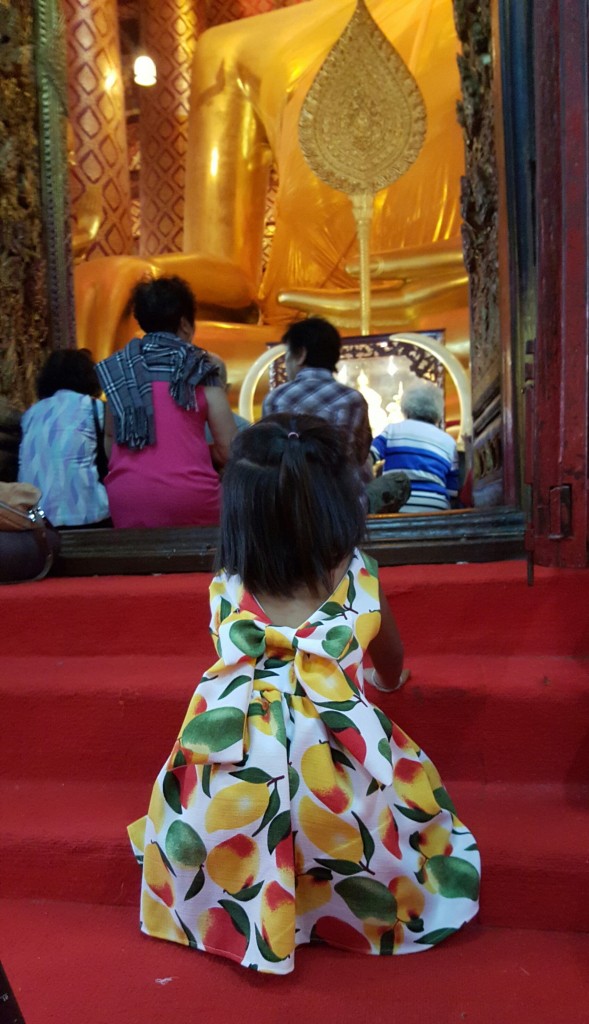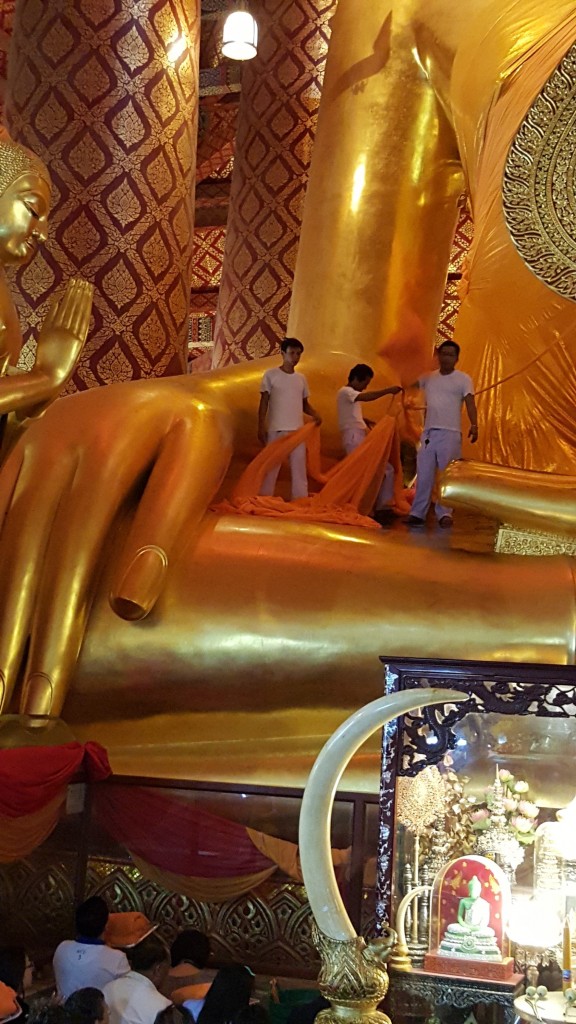 The Prang at Wat Ratchaburana, constructed in 1424, houses the ashes of the two elder brothers of King Boromaraja ll. On his father's death the second in line challenged his elder brother for the throne and in doing so, both were killed. The third son was 'lucky' and ascended the throne without a fight. Beautifully ornate and decorated with Garuda, the THAI National emblem and the symbol of royalty for centuries, it's intricately carved wings spread clinging to the sides, which at night, illuminated by spot lights, glows like an ivory tower.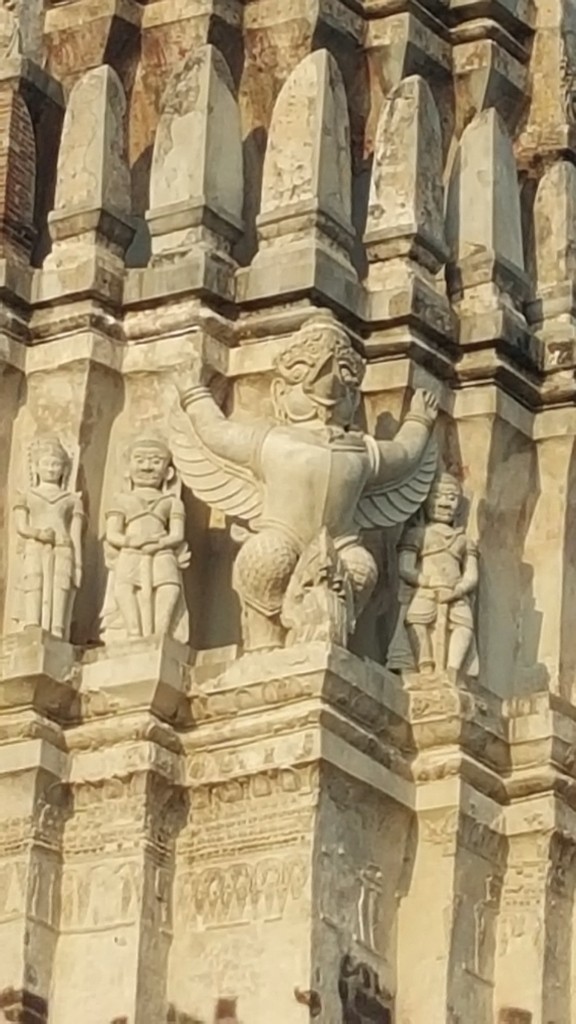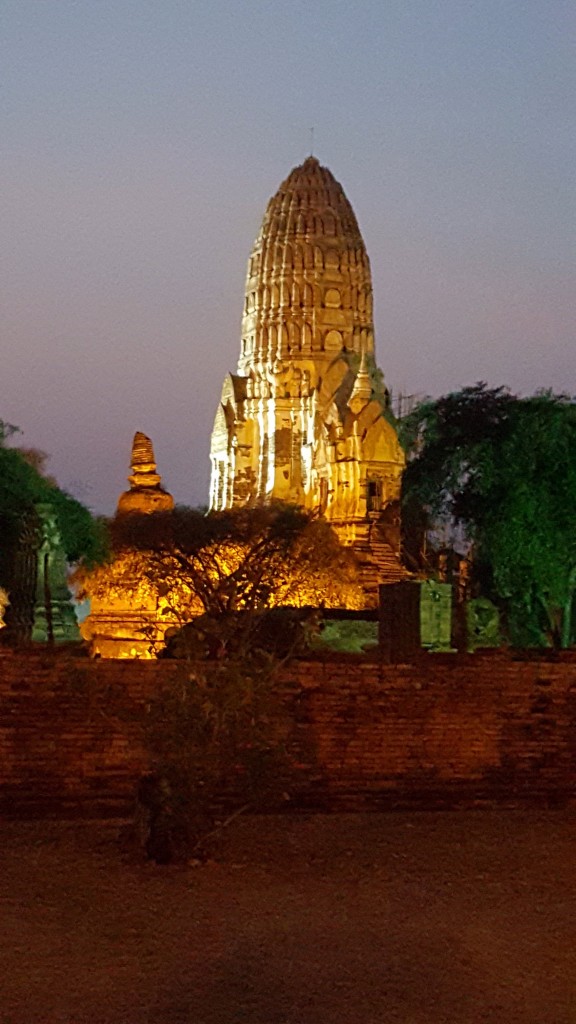 Holding pride of place at Wat Nivat, a Buddhist temple in the form of an English Gothic church, another treasure constructed under the reign of Rama V. Royal carriages are hauled on rope across the moat although these days motors take the strain once heaped onto calloused hands and aching backs. Stained glass windows allow the interior to transform as the sun moves across the sky, projecting light at different angles creating a colourful collage that drifts through the interior, a patchwork glass Buddha etched into the archway above the entrance where Christ would usually reside. Stunning without a doubt however more at home Bang Pa-In, his summer palace, than a Monastery where young boys still come to worship and study, dedicating themselves for 7 years at least, before moving on to further study or to total dedication. I still wear the red, orange, yellow and gold thread tied to my wrist as an offering by a local monk, wishing happiness and health. Although I am not Buddhist I find myself kneeling and closing my eyes as I am showered with water, suddenly calm and thankful for his blessing.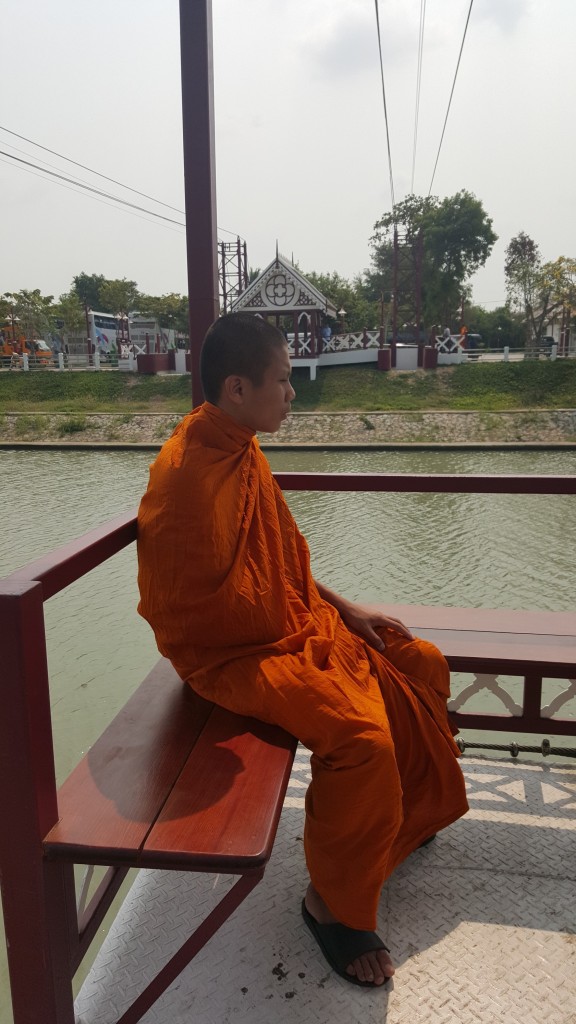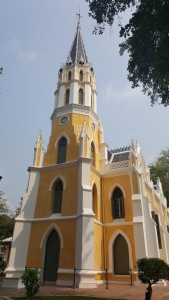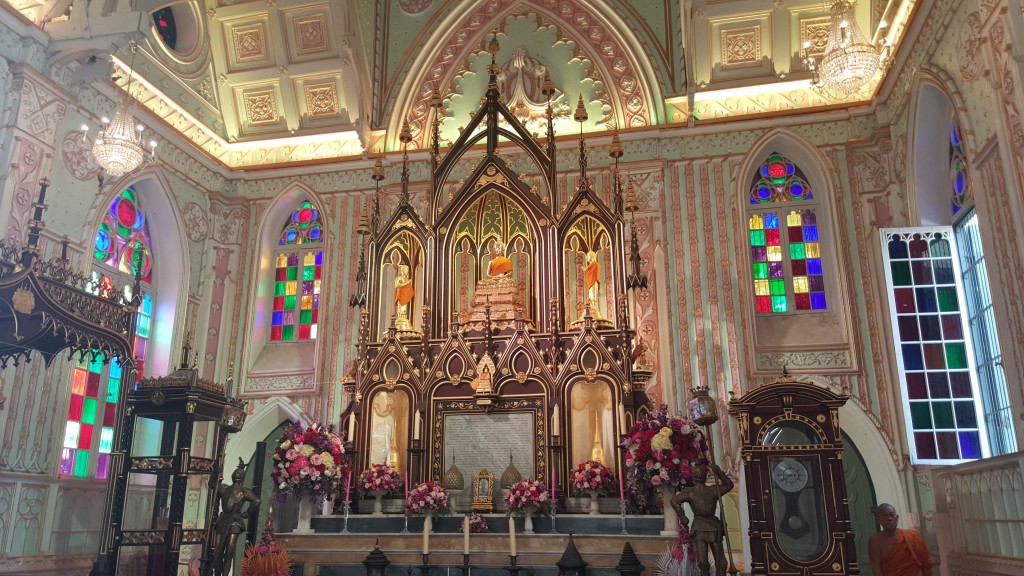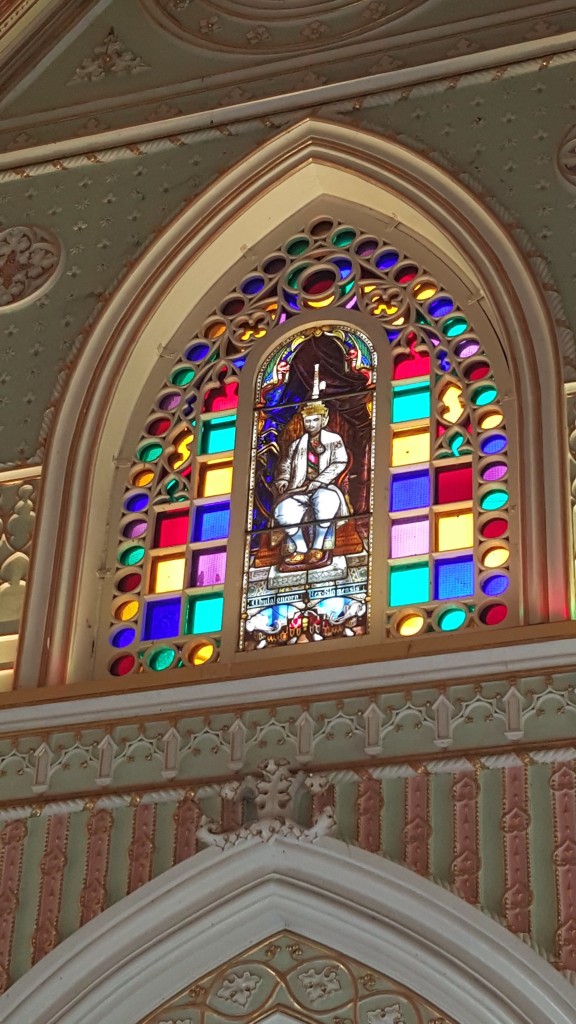 The jewel of Ayutthaya is Wat Phra Si Sanphet. Majestic, awe inspiring and delicious with historical escapades. Three Ceylonese style pagodas straddle the grounds, built to enshrine the ashes of three Ayutthayan Kings. To really experience the magic, visit late in the afternoon and allow the sunset to transform your surroundings . We arrive at 430pm and are welcomed by grounds nude of people – quiet and simply stunning. Everyone has moved on in their punishing schedules attempting to fit everything into their day in Ayutthaya. As the sun slips lower towards the horizon, the sunset illuminates and darkening the chedis, casting shadows and changing colours, putting spirits to bed and awakening others as the moon casts a glow over the evening sky. As darkness falls lights ignite and allow temples to radiate and permeate the darkness, demanding the attention worthy of the Royal ashes housed beneath.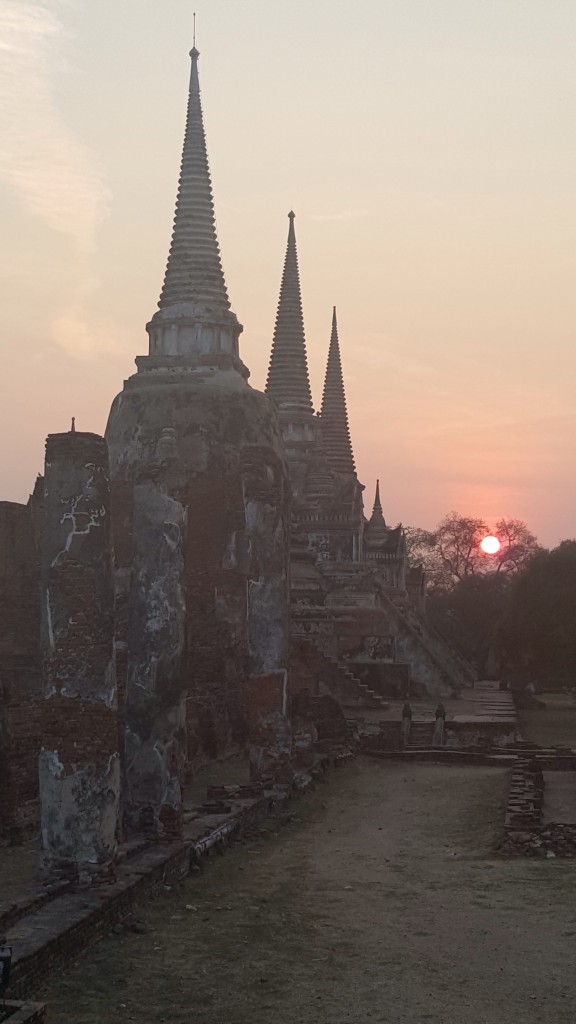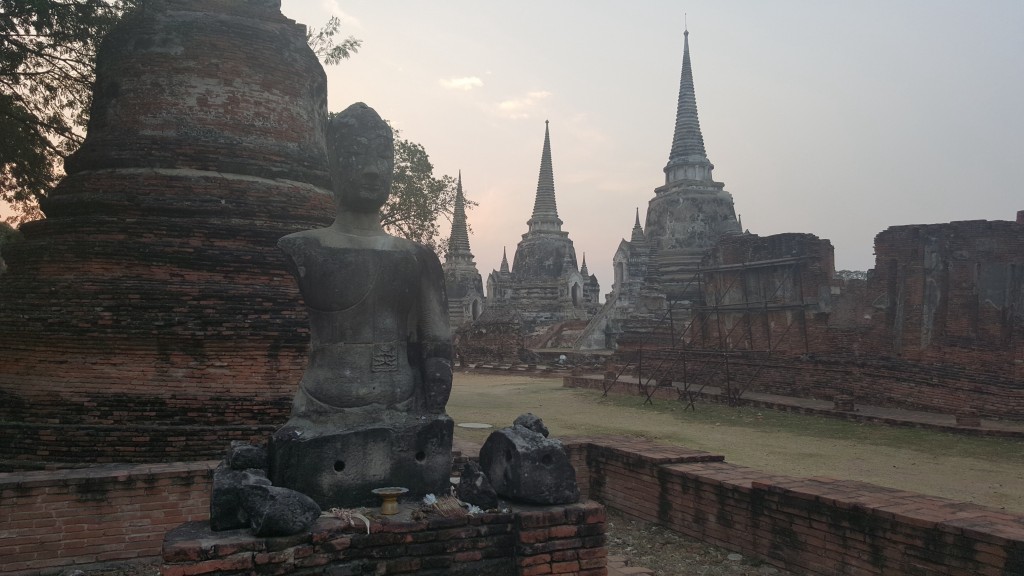 Take the time if possible with a local guide to wander the archeological discoveries and you will be enlightened, which, as the Thais believe, is the reason we are all here in the first place.