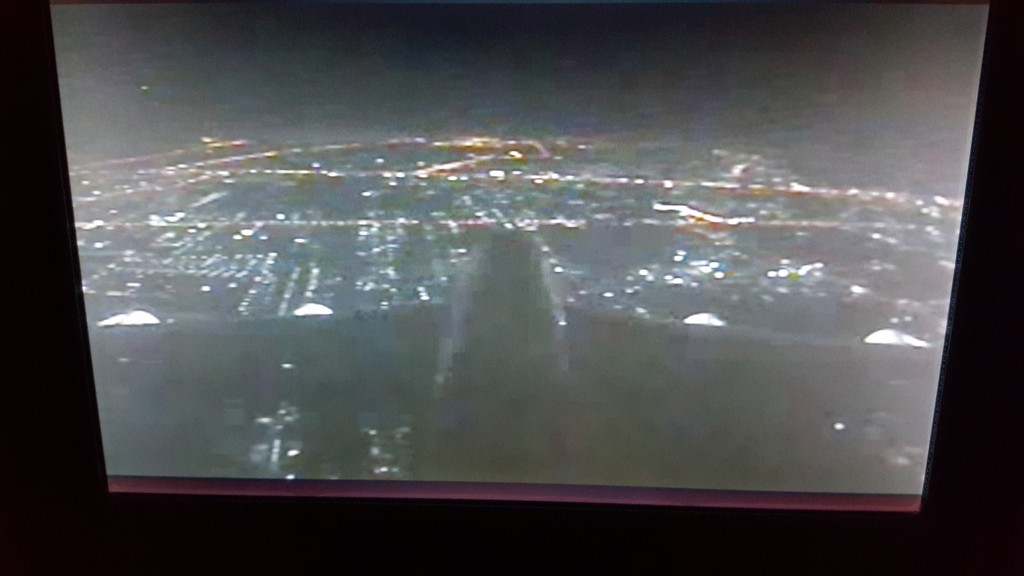 Arriving in Bangkok is, as with most modernised Asian airports, a seamless and expedient experience arriving at the baggage carousel as the bags pop out to greet you. Land, clear immigration, collect bags and into a taxi within 30 minutes. Or was it less? It's still a bit of a blur having flown in from London via Hong Kong, which, at the start of the Chinese New Year, dropped me into a human mass, hovering, ready to pounce on the next available chair in an airport busting at the seams. I spy someone leaving, moving in whilst the seat is still warm, staking my claim. Would it really have mattered? I could have joined the rest curled up on the floor using suitcases and bags as pillows and chairs.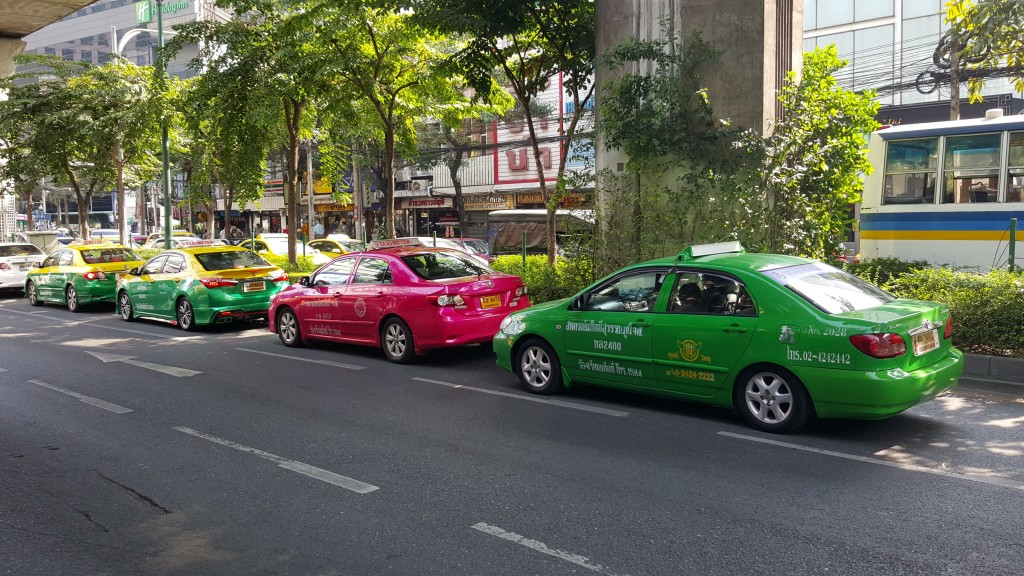 Taxis colour the roads orange, pink, blue, green … Walk over to the automatic kiosk, press the screen, grab your ticket and head to the car under the illuminated numbers. The Bangkok BTS or Skytrain offers an alternative without the convenience of a door to door service. About US$12, including tolls, will transport you the 30 km or so into Sukhumvit in central Bangkok. Before you rush out make time to get some local currency if you haven't already done so. Some taxi drivers will expect you to pay the tolls as you pass through, 25 then 50 baht. Have small notes handy. As you whip up onto the expressway, leave your expectations about acceptable safety standards at the airport and collect them as you leave. Get ready to immerse yourself into the Thai way of life that will enrich your sojourn and provide engaging tales for future dinner parties upon your return.
For some, the use of seat belts is engrained, as is the use of safety helmets, unless, that is, it impedes on your social liberties. Having said that, each country is different. That's why we travel? If a functioning seat belt, sometimes there merely to decorate, is a priority, than be prepared to miss a few opportunities. Unless you clamber in, one foot on the curb, to check the belts when a driver agrees to the journey, you're between a rock and a hard place, surrounded by the sights and sounds of a vibrant city, where normal is a new normal. When in Rome…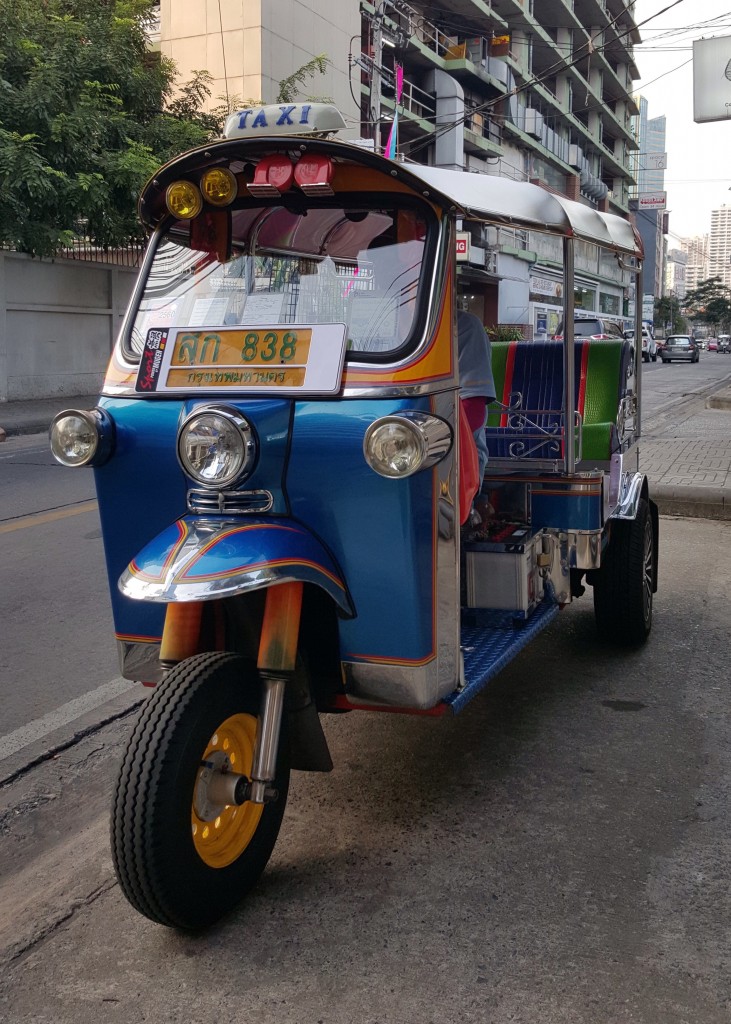 There are, like in every major city, transport choices. Taxis, tuk tuks, motor bike taxis, Uber … Jump on or jump in. Tuk tuks, the local Thai offering sort of like golf carts, though more colourful, troll the streets looking for fares. Hail one down and jump into the back seat. You can't strap in, allowing instead a metal frame to wrap partially around you, seductively shielding you from harm. Not really cheaper than taxis, they are an essential part of the Bangkok travel experience, especially after a night out, clambering in with friends, the more the merrier. Negotiate the fare or risk being held for ransom at your destination. And a little for that extra person. Everything has it's price.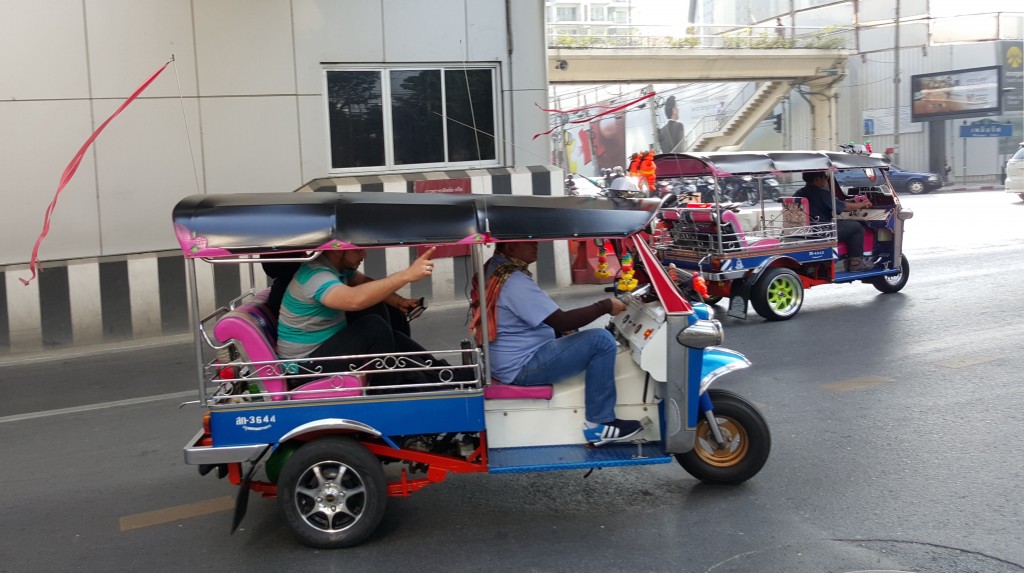 Buses rattle along open windows allowing fresh air to cool and delight. Yeah, really. Cheap, plentiful and often crowded, offering a local taste that should be savoured at least once.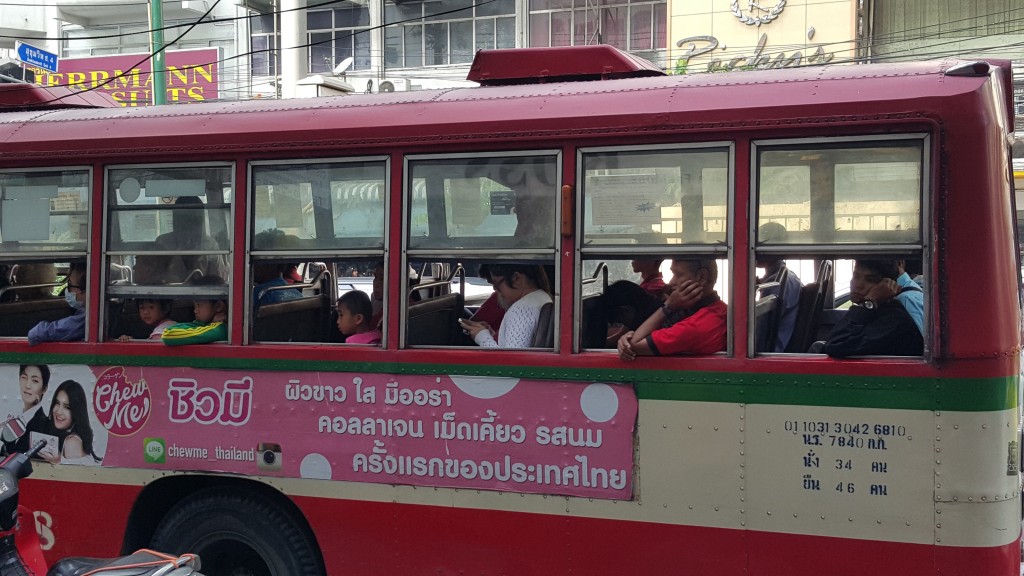 Taxis have meters however at some times of night and for short journeys negotiation is expected. If not heading their way you may be left on the curb scratching your head as the next offering is plucked from the street ahead of you. Having been left in the dust, the first time bemused, we're ready to launch at an approaching vehicle armed with heightened negotiation skills, prepared for refusal. One laying down in front refusing to budge, whilst the other haggles over cents, is surely a legitimate bargaining tool? It may be a user pays system but it's a driver's world. With Sat Nav an aberration at best, grab a map or have it accessible on your phone, preferably in Thai, especially if leaving the central city grid. Know your nearest Soi (street) number. Odds on one side and evens the other, not necessarily correlated given the odd size blocks that weave the patchwork of Bangkok addresses. Park the frustration. Enjoy the unpredictability and negotiations. Don't walk away for the sake of fifty cents. Taxi flag fall THB35.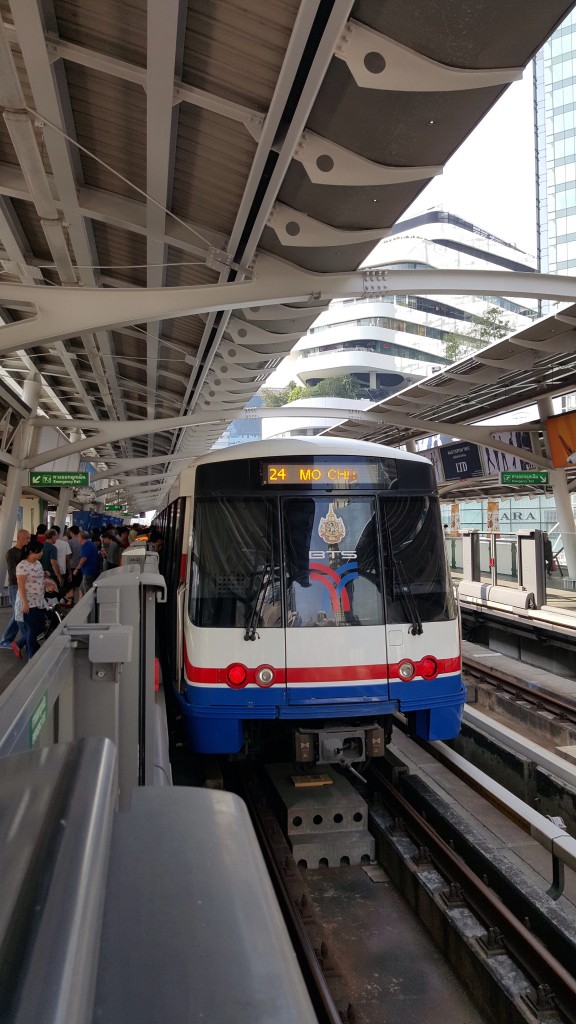 The Skytrain links the city with it's backbone down Sukhumvit Road. Buying a rabbit card, a prepaid travel card, topped up with cash (only) allows you to hop past the ticket queues. Cash it in when you leave. Where the BTS drops off the MRT (underground) picks up, linking all corners of the city effortlessly, quickly and efficiently. In a city where the Skytrain is the preferred method to glide above the traffic and mayhem, where journeys can take fifteen minutes or an hour, motor cycle taxis proliferate the streets like ants in an ant hill, weaving through gaps or creating their own.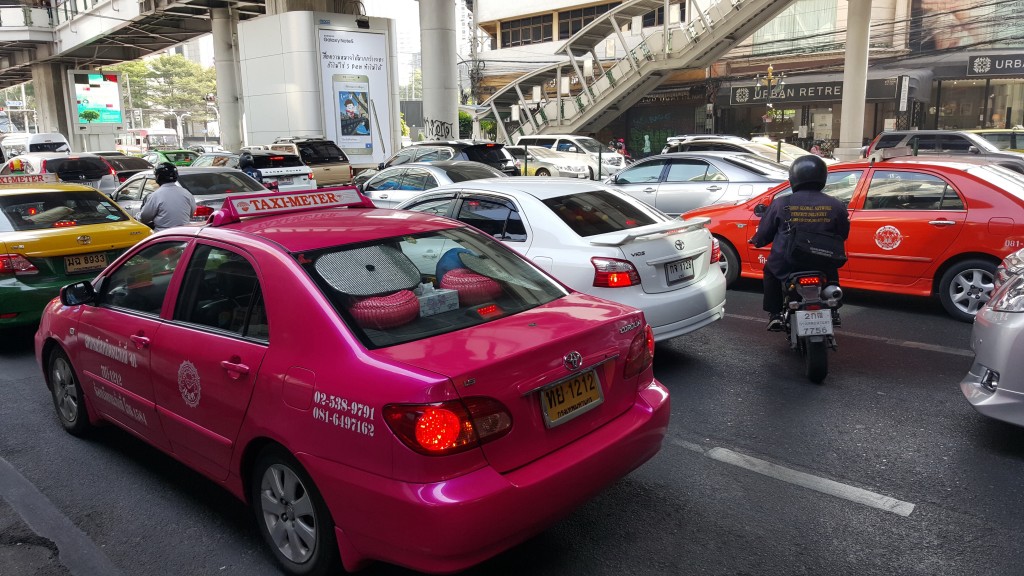 According to some sources around 80 people are killed on Thailand's roads every day. This doesn't stop thousands of bikes adding to the mass of traffic congestion clogging roads, impassable and immovable at times. They speed up journeys as road rules disintegrate weaving in and out with careless disregard for others.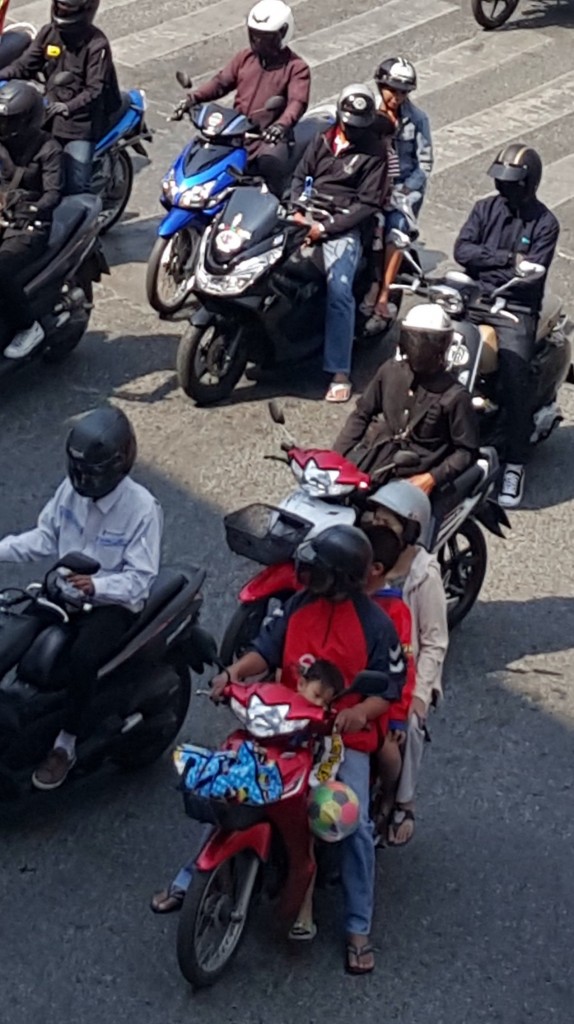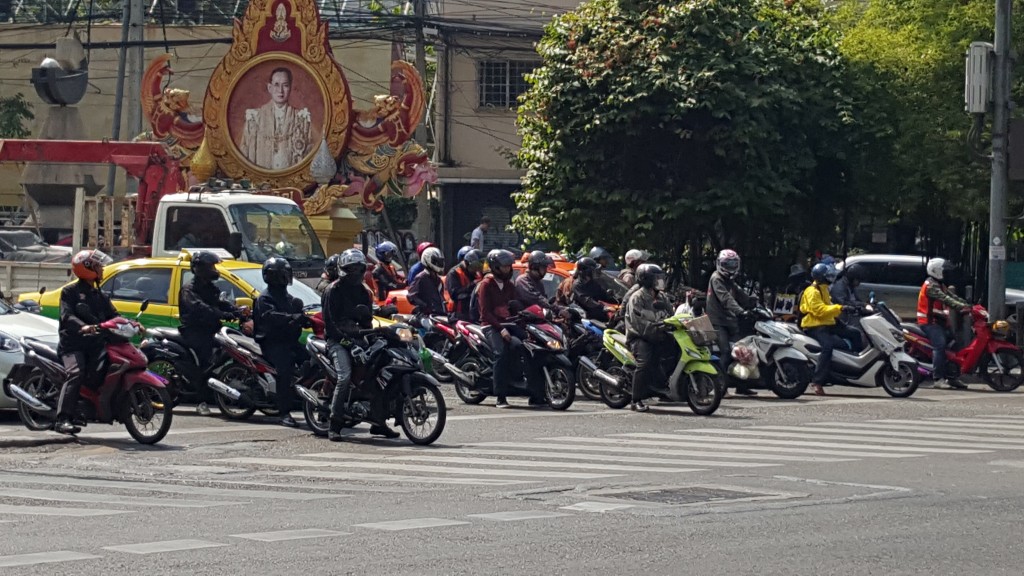 Everyone uses them. Two, three, four at a time. More often than not, rider's hair blowing freely in the breeze. Young girls sitting side saddle clinging to old world decorum and glamour, checking phone messages and texting with both hands. Babies on the front, mum, dad and a kid on the back. Kids unprotected, alarming, to me. 20-30 baht for a short trip. A taxi can cheaper, assuming you were to choose a bike each instead of piling on together. How many people can you squeeze into a mini? On the corner of Soi 16 somewhere near Asok, drivers congregate on the side of the road, grooving along to music blaring, drawing you in. You're under their spell. On every corner. Ease and convenience. Licensed drivers wearing orange tabards.
As we journey through life or travel the world we make educated choices and take calculated risks. Compromise leading to successful relationships. Does the sweat soaking your shirt, running down your back and pooling in your butt crack influence your decision? I've straddled one myself when cabs were scarce, tuk tuks non existent and the BTS was way too far to walk. Ten minutes too far. Debating the merits between the back of the bike or becoming quickly familiar whilst wrapping my arms around his waist, I grip onto the back and my bag, arriving at my destination, all be it with hair standing on end, finding the nearest bathroom to re-groom, ever conscious of a constantly changing hair pattern and endeavouring to avoid the comb over effect, with, apparently, varying degrees of success. Jumping the curb to play chicken with pedestrians, an adrenalin fuelled rush as you pop off the other end ahead of your rivals. Safely on the BTS in air conditioned comfort, a young couple. She is worse for wear. One side of her body covered in bandages and bruises. You can visualise the scene as she puts her hands down to break her fall and protect her face. To little avail. A friend tells of seeing someone knocked off a bike, too gruesome to tell. It does happen. But it won't happen to me. We all consciously or subconsciously decide. Thrown now and then back to reality and to the possibilities. Until …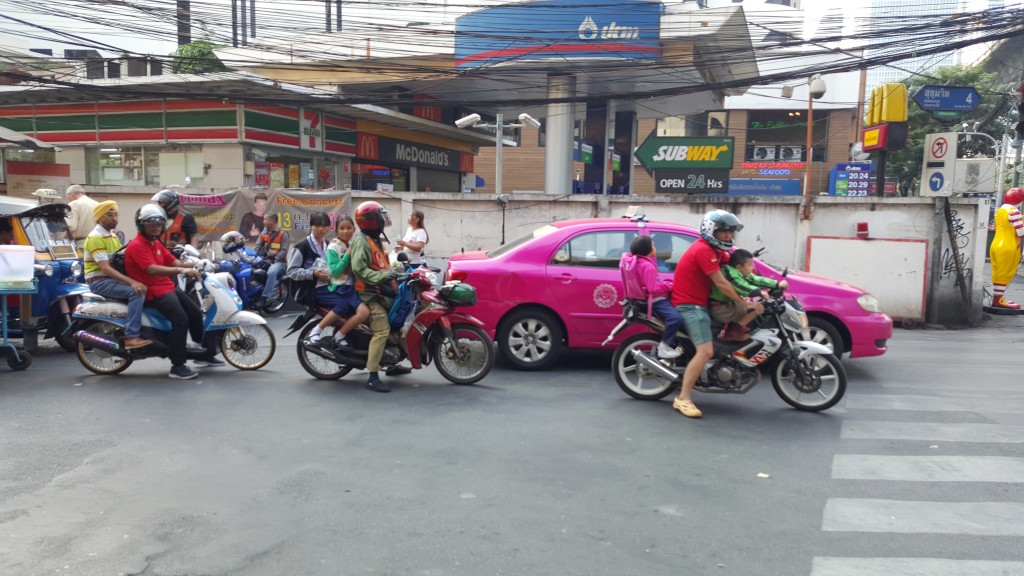 As I am having lunch a girl hops on a bike, side saddle, mobile phone held to her ear. He drives off. She doesn't hold on. Maybe there is a class at school, Cirque du Soleil style, that teaches balancing acts with other compulsory subjects. It's fascinating. A constant steam of clients provide a regular source of income. When I think I have seen it all, a driver pulls up, takes a piss on the side of the road, picks up another passenger and zooms off. School children follow on the next a couple at a time, eager to get home.
Jumping into cultures and joining the locals is an invaluable pleasure.
Jump in! Or … you could walk.