Visiting my parents is always an adventure. My Dad is in his 80's, loves to explore new food, or just loves to eat. So do I. They enjoy traveling, planning and packing days with things to do. Food tops the list. He will do his research and always delights in finding new places willing to tempt our appetites and fill our stomachs.
Their home is near Caboolture, about 30 minutes north of Brisbane and just south of Queensland's Sunshine Coast. A perfect location to explore culinary destinations in the mountains and on the coast. This trip it's the coast. My brother and I get our love of food from our Dad and our love of travel from both parents. Combining the two is a pleasure we enjoy and embrace with an open mind and an open mouth, so to speak.
Aussies have an open invitation to the rest of the world to come down under and "throw a shrimp on the barbie". This invitation made famous by the Australian Sydney Harbour Bridge rigger, turned comedian, Paul Hogan during advertising campaigns in the 1980's, enticed the world to journey to Australia where everything was bigger and better. Shrimp are thrown back or used as bait. Prawns are eaten.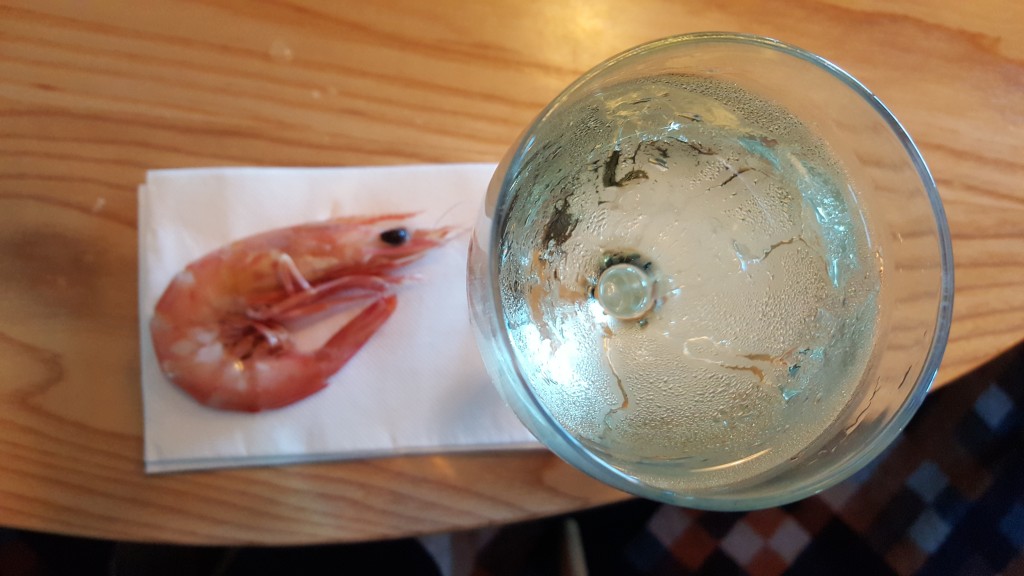 By the way, for Aussies shrimp means small. Small kids being called a little shrimp. Sort of an insult but more of a fact, although the Australian way of life seems to allow insults to be used as a type of mateship, bonding ritual? They offer more insults and jibes, especially to friends, than most and take less offence to these than most. I grew up with this banter and sometimes forget that my British or American friends don't warm to these terms of endearment as my Aussie mates do, nor do they have the polished repertoire of response. Practice makes perfect.
Using the old fashioned way, we plot our journey north, 45 minutes, with the aid of the local UBD (Universal Business Directory) a book of maps that was the first large-scale street directory in Australia. Driving past Steve Irwin Way, which leads to Australia Zoo The Crocodile Hunter and skimming the Glass House Mountains, this well trusted and reliable location device allows us to find our restaurant easily and with out the wrong turns and dead ends you see in the news when fixed voice navigation is followed blindly and trucks wipe off their high loads or cars end up in ditches. I admit I haven't used a book of maps in years, however my parents are leading the way and if it ain't broke …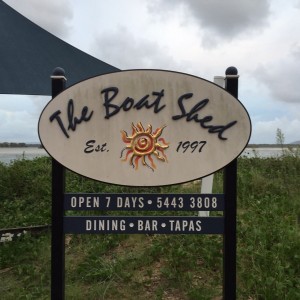 We find The Boat Shed at Cotton Tree, nestled under canopy and umbrellas, on the esplanade, over looking the bay where the Maroochy River spills into the Pacific Ocean. We called to book and were offered 1200 or 1230. Not 1pm? It's a Tuesday. Sorry we are fully booked. And they are. The restaurant gradually fills with ladies that lunch, business men and women, couples and us. Off the beaten tourist track worn between Brisbane and Noosa we have stumbled across what our waiter refers to as the 'land of the local'. Well not stumbled, Dad discovered it. A restaurant coupled with casual seating under the cotton tree, inviting both diners and those prefering a casual glass of wine, reading their books, facing the sea. Kids climbing, swimming and canoeing as parents eat, drink and relax. Popping back now and then to tell of their adventures before heading out to find some more. Not sitting at the tables with mobile phones, iPads and computer games. What!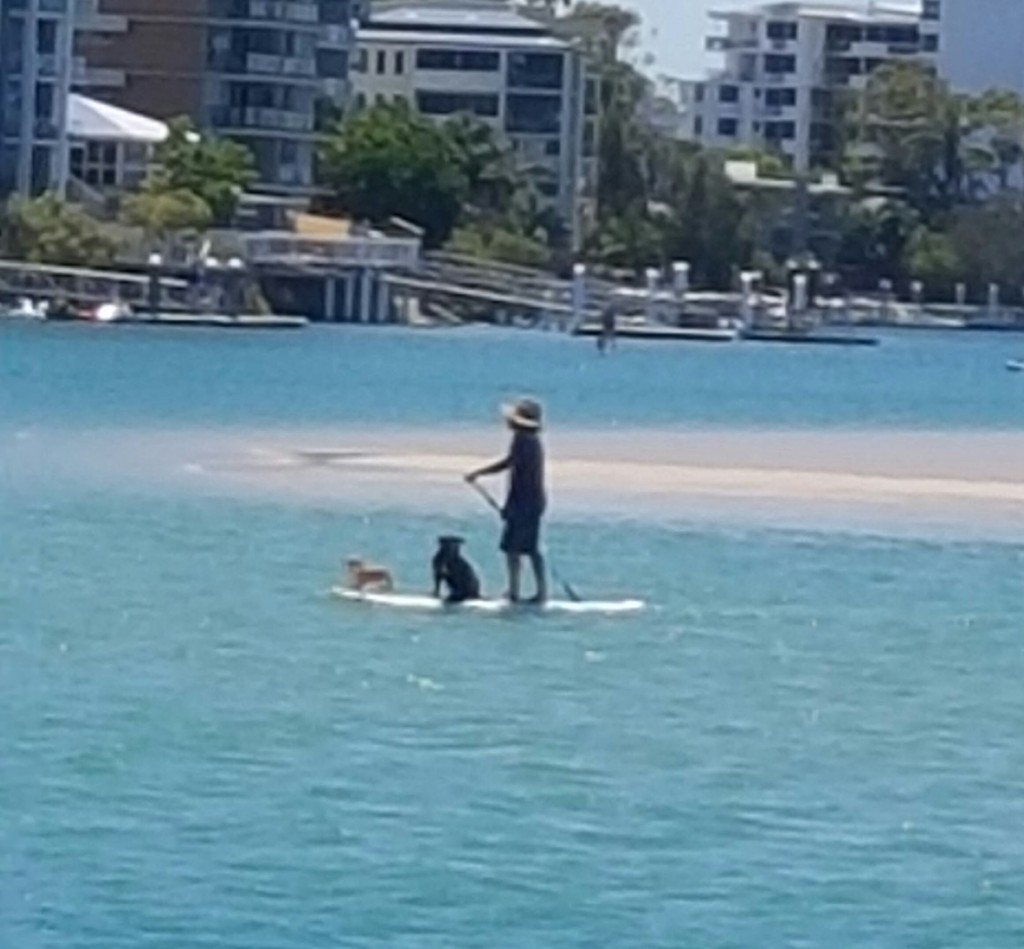 Queensland may be God's own country where people walk on water. Well it looks like it. As the tide ebbs and flows, sandbars emerge and disappear revealing the magician's walking trick, whilst allowing swimmers to sun bathe on the pop up beaches before slipping back into the clear warm water. Paddle boards are prolific as are canoes and kite surfers. Queenslanders have a different take on taking Fido for a walk.
An extensive menu tempts the taste buds and the food delivers. Spaghetti of sand crab to start. Delicious, subtle and a little sweet. A fabulous conversation follows with our waiter Kevin discussing the methods of making a great tomato base for various dishes. He's Sicilian. The sweetness cuts through the usual richness of a fresh tomato sauce so that it won't over power the crab. The crab did shine through. Yummy. To follow, Crispy pork belly, Prawn, Apple and Ginger broth, Scallop dumplings, Soused greens. Don't even try and cut it. Slice off the crackling and eat it with your fingers. Yummy.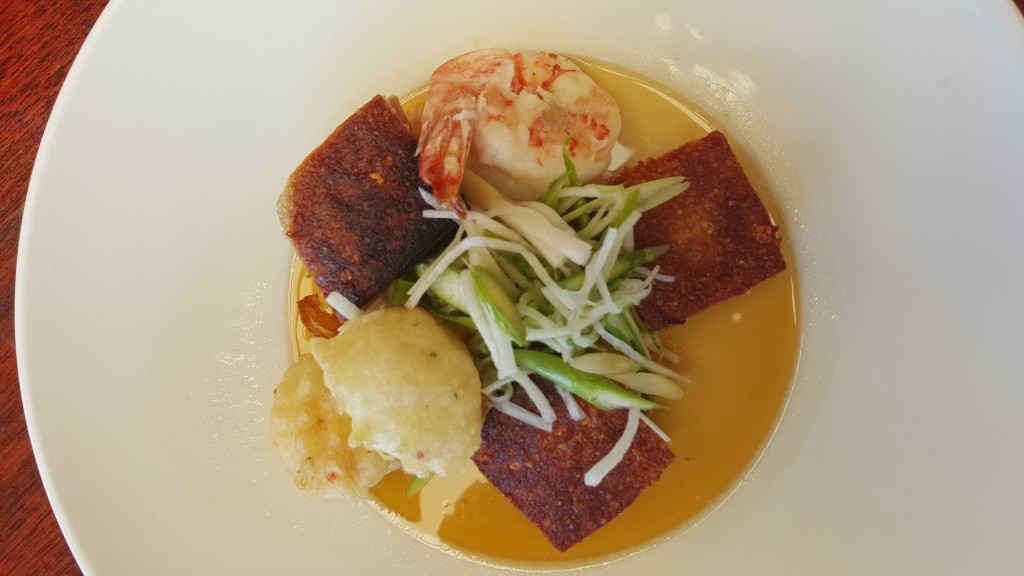 Kevin loves what he does. He loves hospitality and as he rightly suggests, hospitality is about passion. He is passionate about food, about wine and about people. His food and wine knowledge is exceptional. His enthusiasm radiates and is infectious. So we are deciding on wine.
He steers us away from our usual New Zealand predictability. Dandelion Vineyards Sauvignon Blanc 2015 with an 'outrageous lift of grapefruit, a burst of fresh, radiant incandescent scents of fizzing limes, lemongrass …". We don't know it. We love it. South Australian wine completes the perfect meal.
Well, not quite complete. A tasting dessert to share allowing the chef to choose our seletion. Bruleed lemon custard, Salted caramel popcorn semi-freddo and Chocolate cherry torte. These seem a little heavy for the hot afternoon Queensland weather. In hindsight something we could have gone without.
Mum is driving home so Dad and I indulge in Scotch and Poir liquor. Love you Mum.