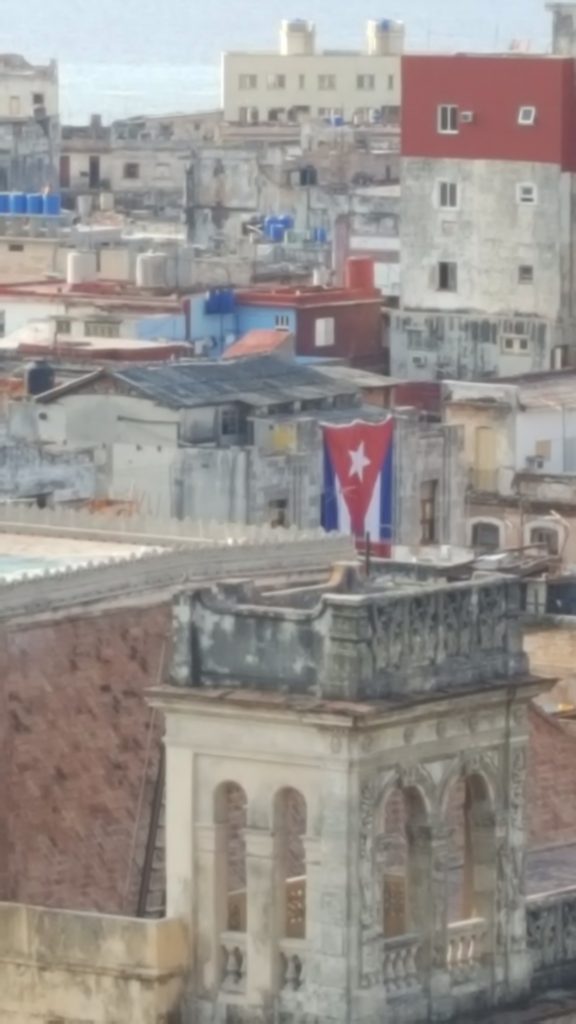 Visiting for the first time in seven years I am eager to see what has changed and how Havana is developing into a world class city and tourist destination. Well for most of the world Cuba has been easily accessible with direct flights hitting the shores from virtually every corner of the globe. Intrepid travelers from the US however have been sneaking in via Mexico or Canada, stampless passports and paper visas allowing access to one of the most fascinating places on the planet.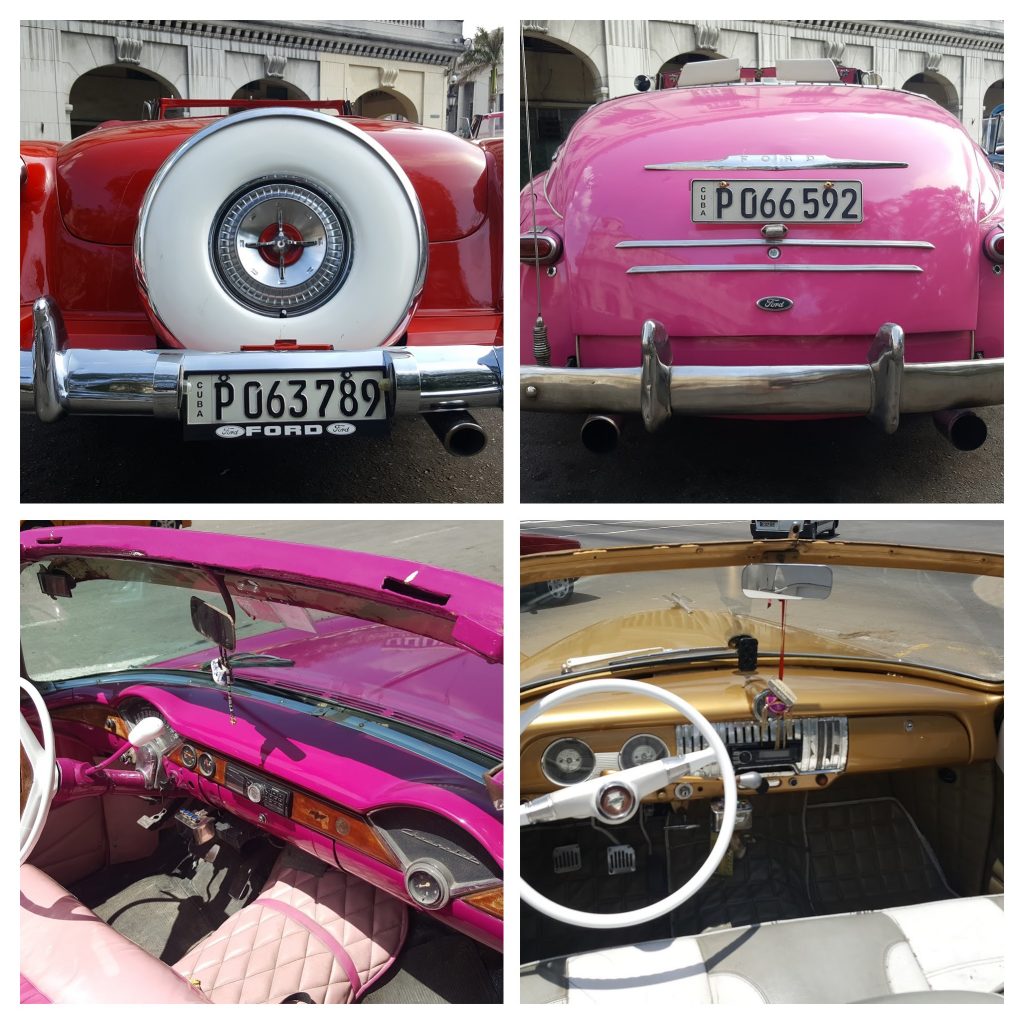 Stuck in a time warp when the Americans up and left when intervention through CIA assassinations and coups failed, Havana has endured, baroque architecture struggling to stand amongst crumbling neighbours, facades propped up hiding interiors virtually falling apart. The buildings are stunning, European style boulevards, ornate exteriors shielding marble staircases, balconies overlooking streets and squares, gothic cathedrals blending into neighbourhoods.
Things are changing and fast. Now cranes are popping up, construction is evident. Prices are rising. Get out of your hotel, leave the wifi behind and tread the streets.
This trip I had planned a structured walk around old Havana. Starting at the Gran Teatro de la Habana, next to the domed Capitolio National heading down Brazil street and circumnavigating back along the water returning along Paseo de Marti (Prado). The theatre has been tastefully restored and once again plays host to the Cuban ballet, opera and concerts. It glistens like a jewel adjacent to Parque Central. I manage to obtain tickets to Lago de Los Cisnes (Swan Lake). Spectacular, ballerinas on pointe, audience well dressed and passionate with applause and standing ovations. Stall seats well worth the CUC30 (USD30) for tickets delivered to the hotel.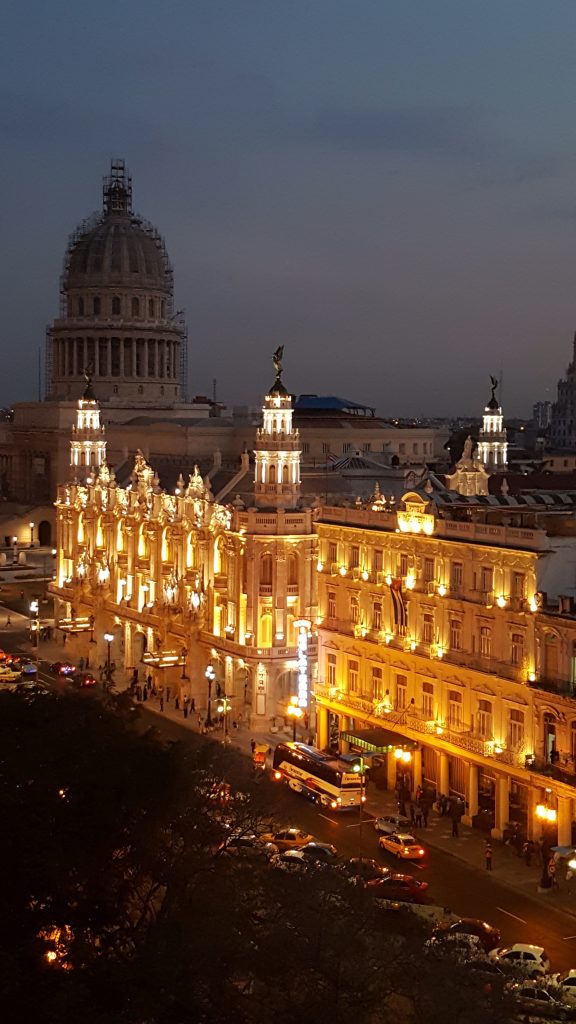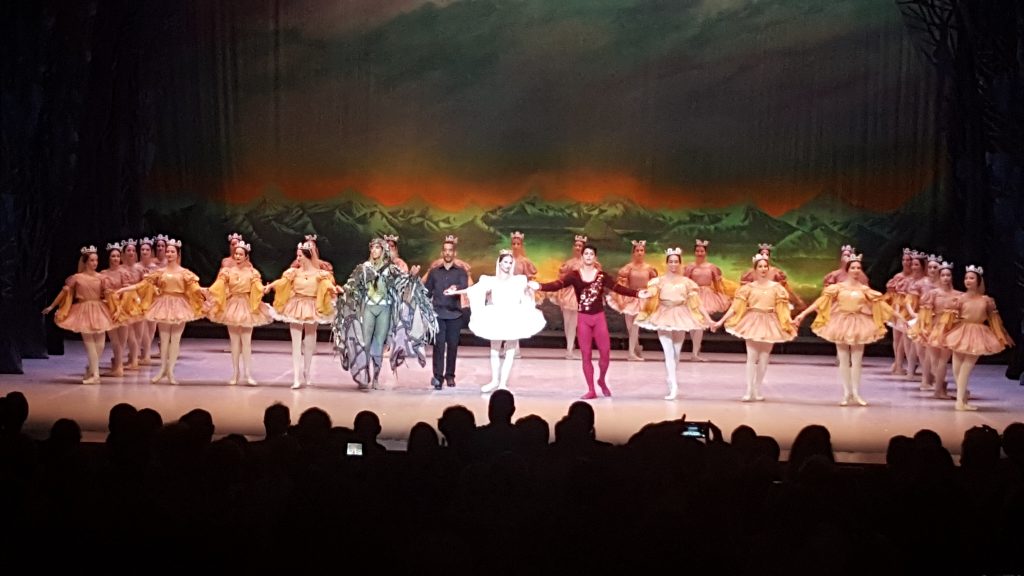 Immediately I am surrounded by life. Starting off something catches my eye down a side street I wander down following drums and Belles on stilts.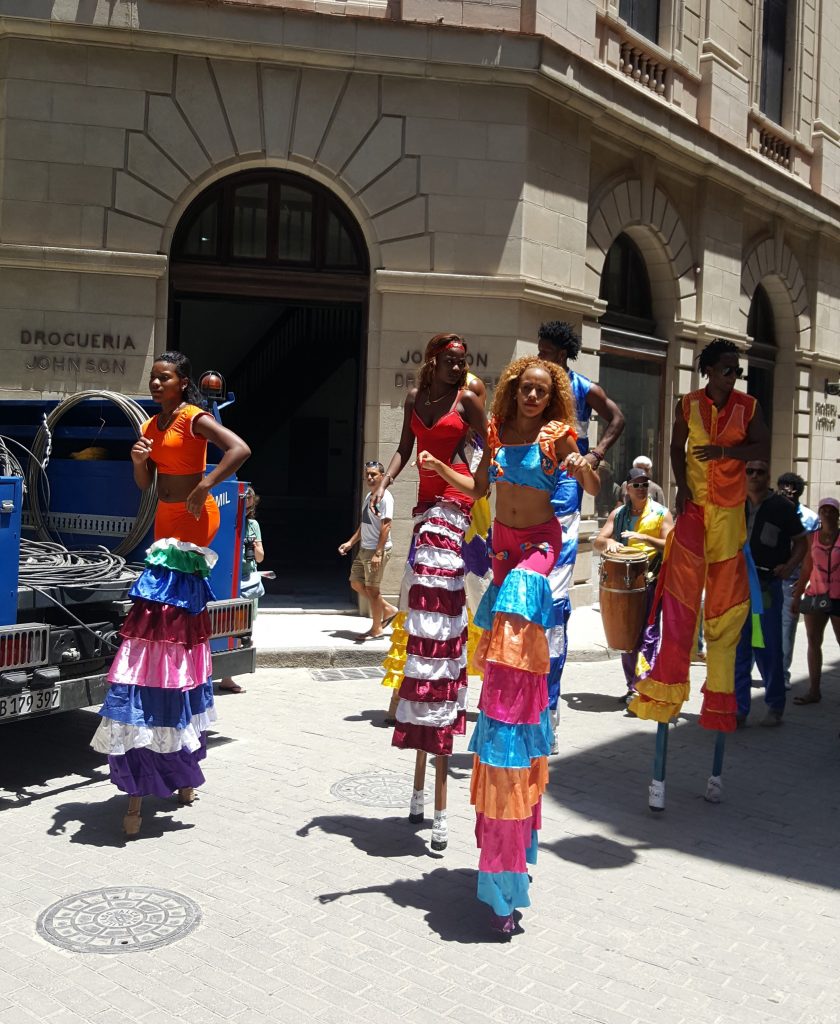 As they turn the corner I keep walking grabbing an espresso in one of the many bars spilling out onto the street serving espresso that more than satisfies my Aussie bred taste for coffee. I'm lost. Well not really, I have my map and throw caution to the wind and with fate as my guide explore.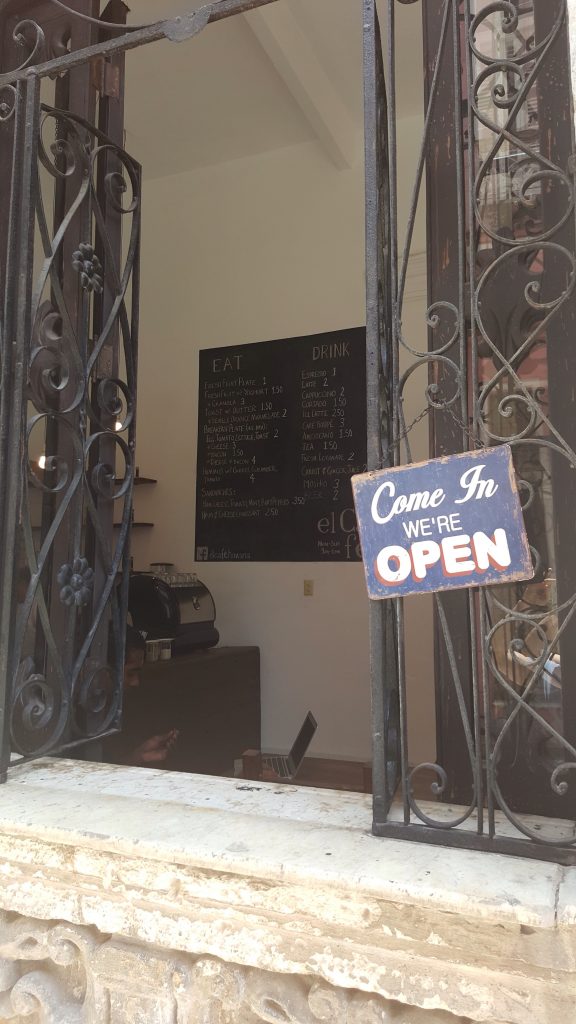 So far, things are changing for the better. Cafes are popping under umbrellas in the squares and espresso bars Italian style with standing room only are spilling out onto the streets. Restaurants open up behind huge wooden doors into courtyards and shutters fling open as the music draws you in. Narrow buildings make use of every level as staircases guide you to rooftop bars and terraces. To find them you have to wander around taking the time to stop and look, grabbing lunch and a mojito as you go. With little high rise and no towering blocks, most streets look quite similar and it's easy to become disorientated. With the aid of a map it's easy to get back on track as you check the cross streets for reassurance you are heading in the right direction. I wasn't, however there are umbrellas inviting on another corner.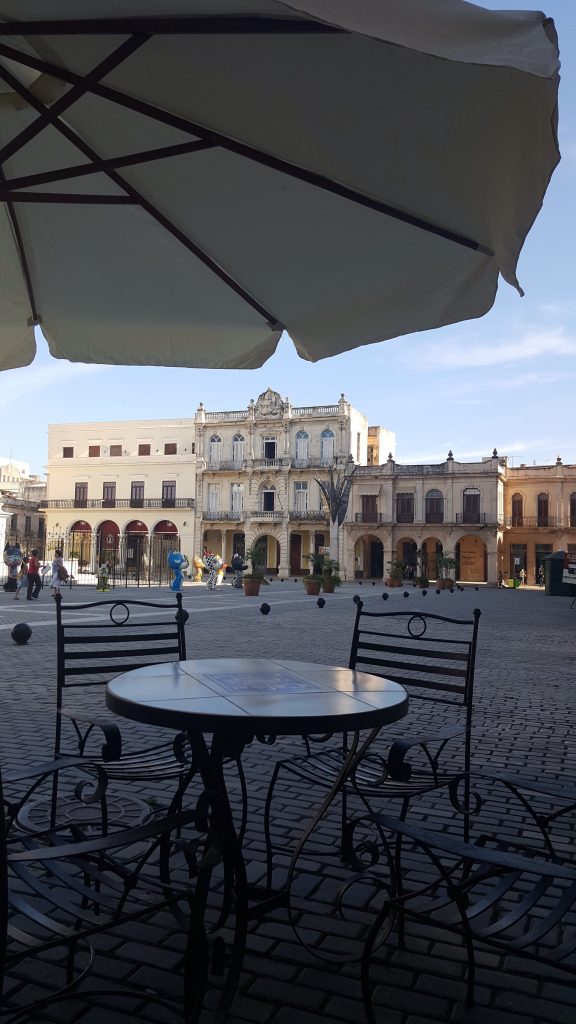 Vintage cars, yellow taxi lights picked up from EBay? stuck on top or on dashboards and TAXI stickers clinging to windscreens homemade or otherwise, comb the streets or congregate strategically providing photo opportunities and promising private tours. I didn't notice the Mercedes last time. Carry some change as 'life' in Havana can be captured for a small fee.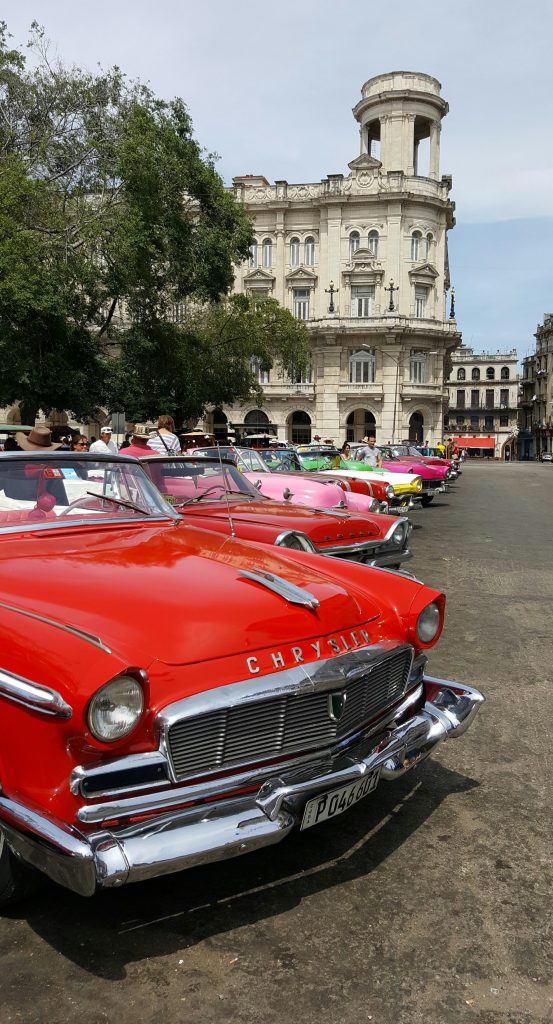 I thought I'd go in search of the perfect mojito however there is no need as they are everywhere, outside of the hotels. As in most places throughout the world the unassuming places are usually the best. Sugar, lime juice, mint, stems and all … muddle … Havana Club rum, free poured of course, splash of soda.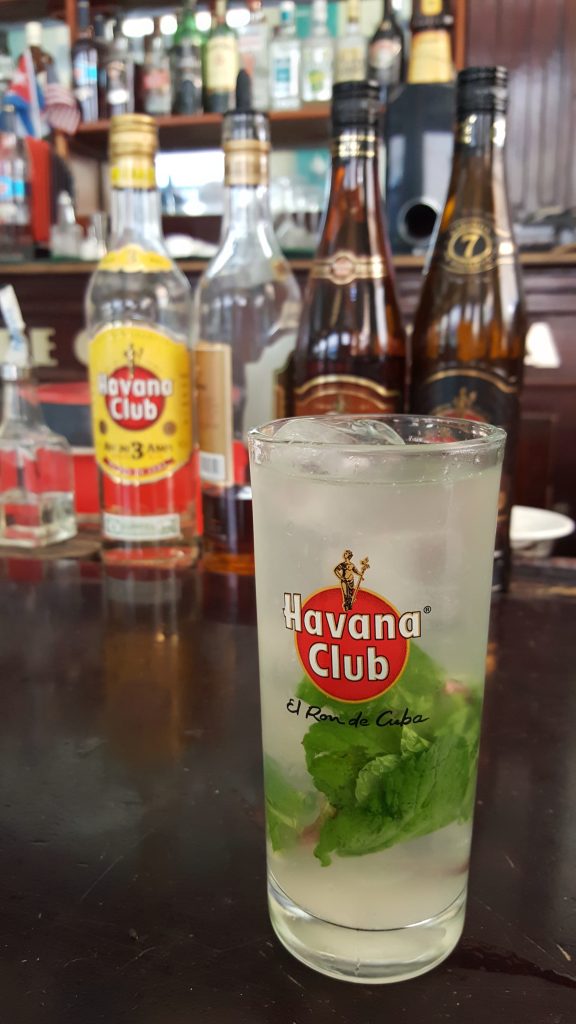 They slip down easily any time of the day as I enjoy an espresso whist others enjoy them at ten in a local cafe. 'Where are you from?' And so starts the conversation in a smattering of English as my Spanish is basic to say the least and I order my first Mojito of the day. 'Happy holiday!' Others enjoy Cuba Libre. Which sounds more exotic than Rum and Coke, with a squeeze of lime.
Cubans are friendly, inviting and interesting to talk to with fascinating tales of history and insights about what the future holds. Sure, 'taxi signor' … invitations to view souvenirs … will greet you as you walk the streets, however a polite refusal and a smile will suffice if you are not interested. Maybe the next person will want a ride or a memento. As the music draws you in you will be offered a CD, buy it if you want to, politely refuse if you don't. A tip goes a long way and is appreciated. People are making a living and entertaining as they do so.
Havana is a history lesson worthy of consideration. Cubans celebrate a religion blended between native African and Roman Catholic, Afro-Cuban. Superstition mingled with Catholicism as crosses and lobster tails and nailed to lucky trees. Museums pay homage as do churches and squares. Having taken the time to research before arriving, things will fall into place. Draw your own conclusions, allowing for home ground bias. Name one memorial or museum without a tinge of home grown favouritism?
Whilst there are fabulous tapas bars and restaurants opening up (Watch this space), against my better judgement, I agree to join friends for lunch at the Hotel Ambos Mundos, or is that Mundane? Ernest Hemingway used to write here and his room holds pride of place 'as it was' on the second floor.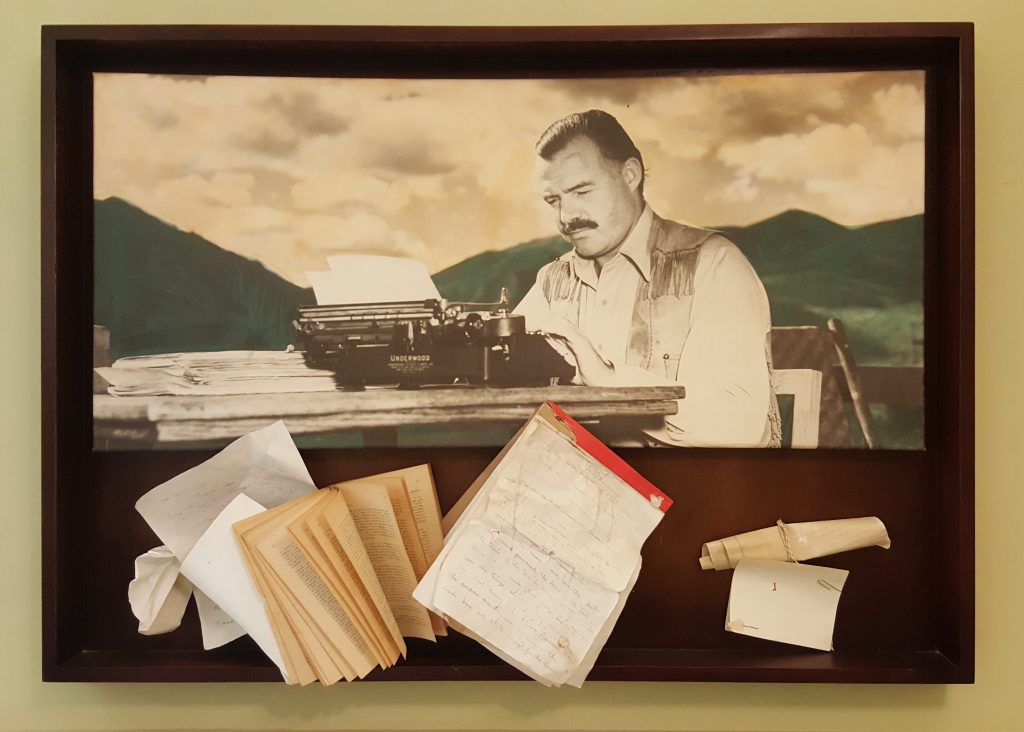 A tourist trap, serving tasteless food as a soulless three piece band drags out a guitar and maracas, dressed in white who, was it not for their strumming and clicking, you would believe them to be statues who come to life for a dollar. I am expecting the collection bowl at any moment. Following Hemingway's trail I pop into Floridita to a sea of selfie sticks swinging around in a bar full … a revolving door would be a perfect addition. You would learn more about the man by reading The Old Man and the Sea whilst sipping a mojito sitting in one of the many Plazas allowing the city's music to drift around you. If you must, pop in for a photo of a bronze Hemingway resting at the end of the bar and exit post-haste for somewhere with more atmosphere and authenticity.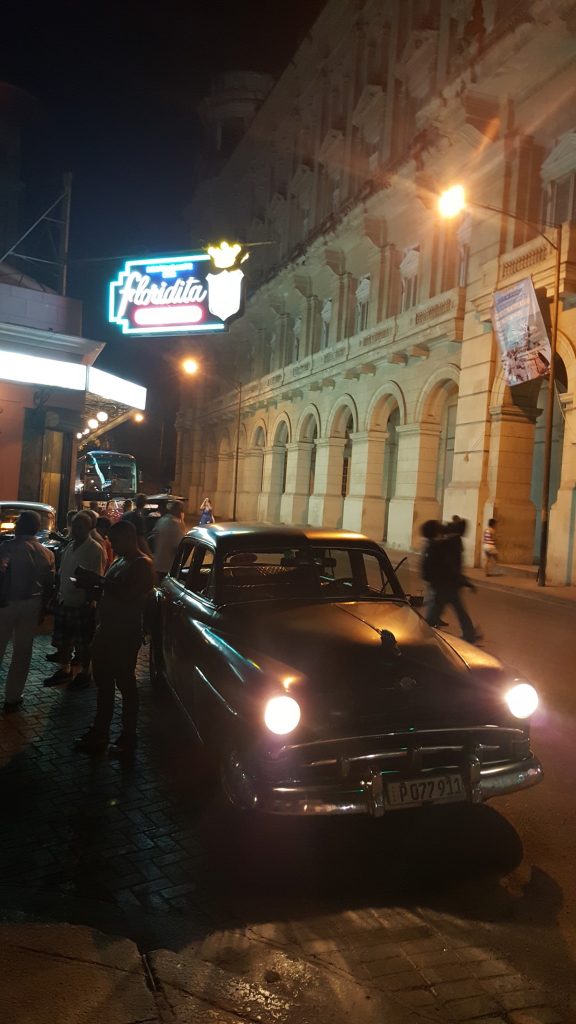 Horse and carriage, three wheeled bubble taxis and vintage cars await to transport you around the city, drivers offering a city introduction. Hire a bike, grab your map and explore. If you intend to stop and visit museums, sip coffee or cold cervesa, have lock and chain to hinder thieves lingering in the shadows. See my story Get on your bike in Havana
I revisit an old favourite, La Guarida for lunch and remember why I loved it so much. The set for the Oscar nominated film Strawberry and Chocolate, eclectic rooms welcome at the top of a marble staircase not out of place in Gone With the Wind, walking up past the Cuban flag …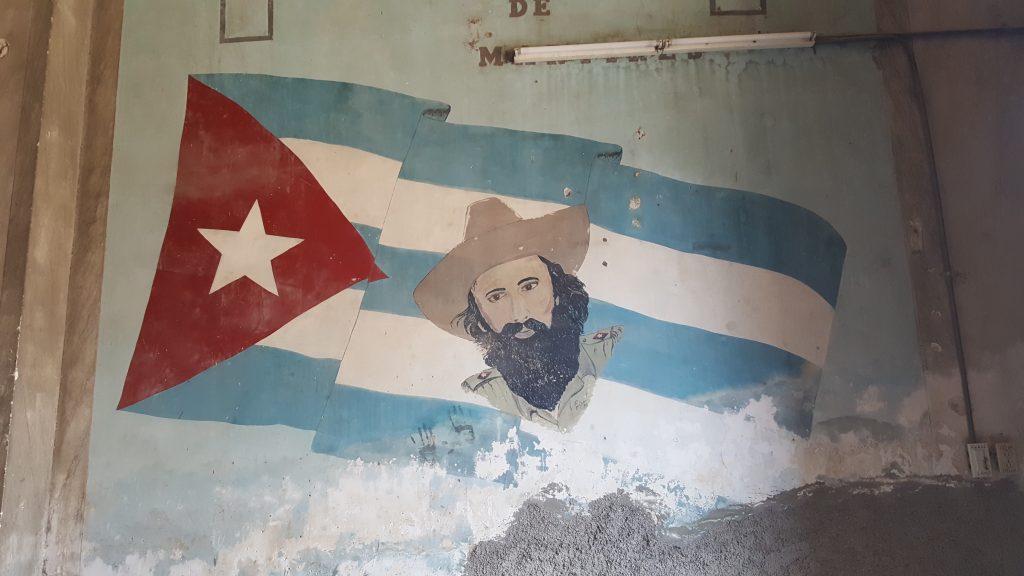 I am greeted by artwork dripping from the walls and chandeliers swaying in the cool breeze.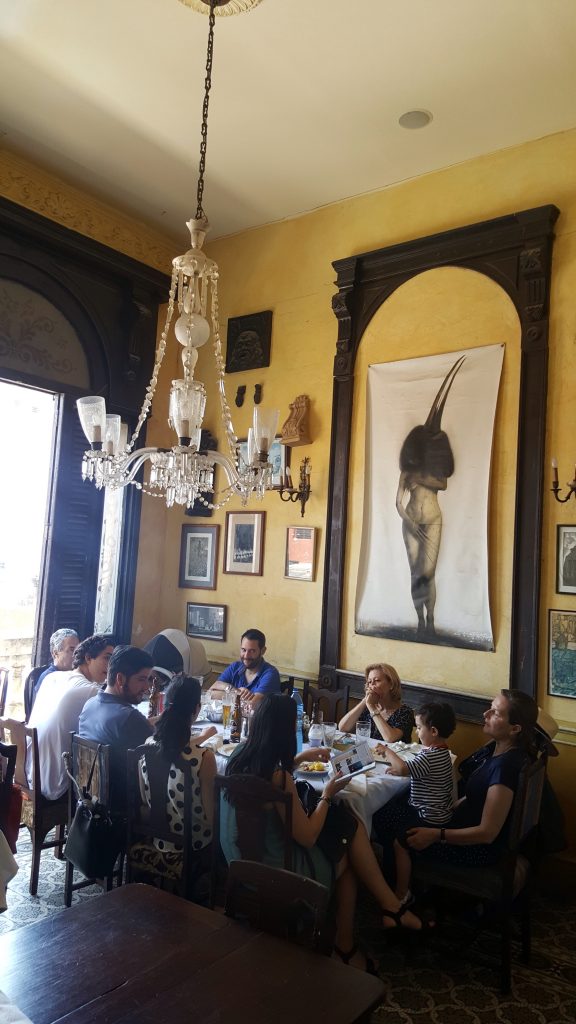 Afterwards I climb the spiral staircase to the roof, a recent addition, the view literally framed, endless over city and ocean. Cool roof terraces are lighting up Havana's skyline as inventive and stylish proprietors utilise space and capitalise on stunning weather.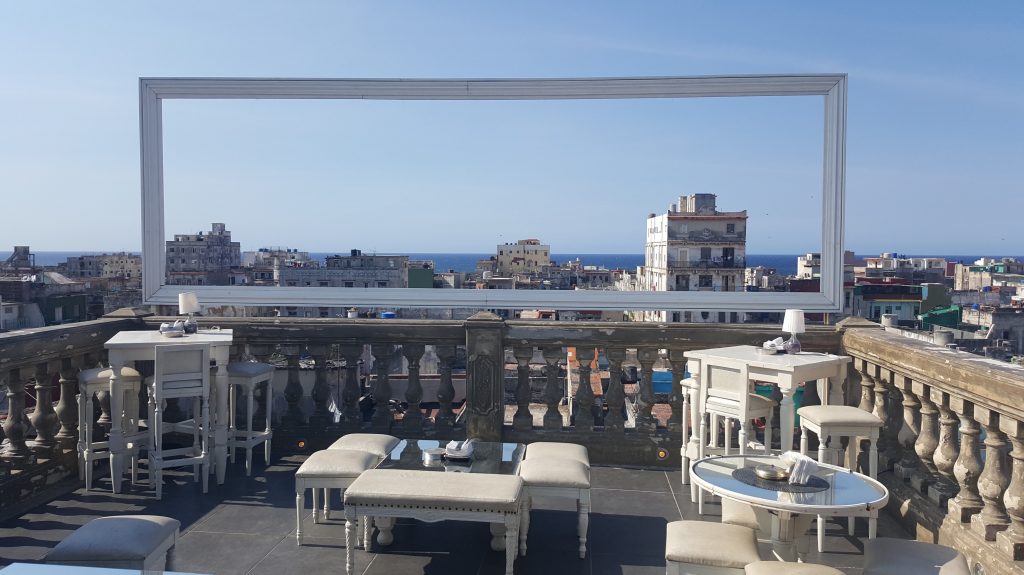 No Golden Arches or Starbucks here.
This week Karl Lagerfeld and entourage have arrived for the Chanel fashion show. Paseo de Marti is partially blocked off as runways are poised to host the who's who of the fashion world. Residents have been warned not to congregate on balconies overlooking the street through fear of collapse. Helicopters zig zag above the Malecon as the next in the Fast and Furious franchise is filmed.
As I fly out the first cruise ship arrives from Miami …