Visions of skimming through the water sipping champagne quickly disintegrate as we board the dingy with two outboard motors, fit life jackets and hold on as we thump, thump, thump over huge waves, spray showering the bow, guided by satellite navigation. A friend has extended an invitation to visit her in the Maldives where she is working. We arrive at the airport and I'm guided to the business class check in area. An amazing surprise. We are flying with Sri Lankan Airlines from Singapore via Colombo to Male, the capital.  We often discuss the merits of upgrading. Is it worth it for a short flight, three hours thirty minutes to Colombo then a little over an hour to Male, on an single aisle Airbus A320. The answer smacks us in the face at check in. Queues a mile long and no one in the business class line. Yes, L'Oreal, we are worth it. Nice roomy seats and a champagne greeting. Many flights into and out of Male arrive and depart in the dead of night or at times in the morning usually reserved for lining up to get into clubs. Ours in no different.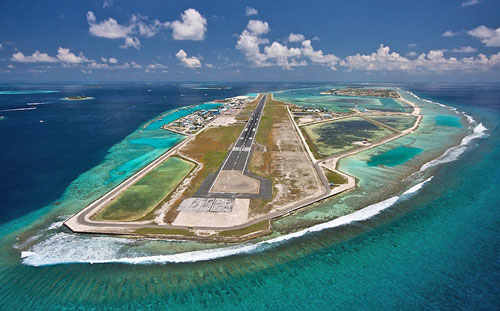 Male airport is a runway on an island in the North Male Atoll. Spectacular. At least we can see that from photos. In reality, we land in darkness, clear customs and make our way to our launch transfer.  Two young guys at the helm, 20 years old if that. Is one of you the Captain? Maybe two mates taking turns leading the joy ride across the Indian Ocean. I am comfortable on boats having grown up in exploring the islands and the Great Barrier Reef adjacent to Australia's north east coast. My partner however is not. We need to call the resort and order some double vodkas to greet us please.
We arrive, are greeted, check in and find the bar. Our first two nights in a Beach House after which we move to an Overwater villa. Sleep.
We have seen the photos and read the reviews. Nothing and I mean nothing can prepare you for the visual masterpiece that greets the eyes as the sun rises and the Maldives reveals its glory. Blue, blue, blue. White sand, palm trees swaying and an ocean so clear you can see, well everything beneath the surface. No need for polarised glasses. However using them creates an even more vivid three dimensional sea world opening up a playground to dive into and explore.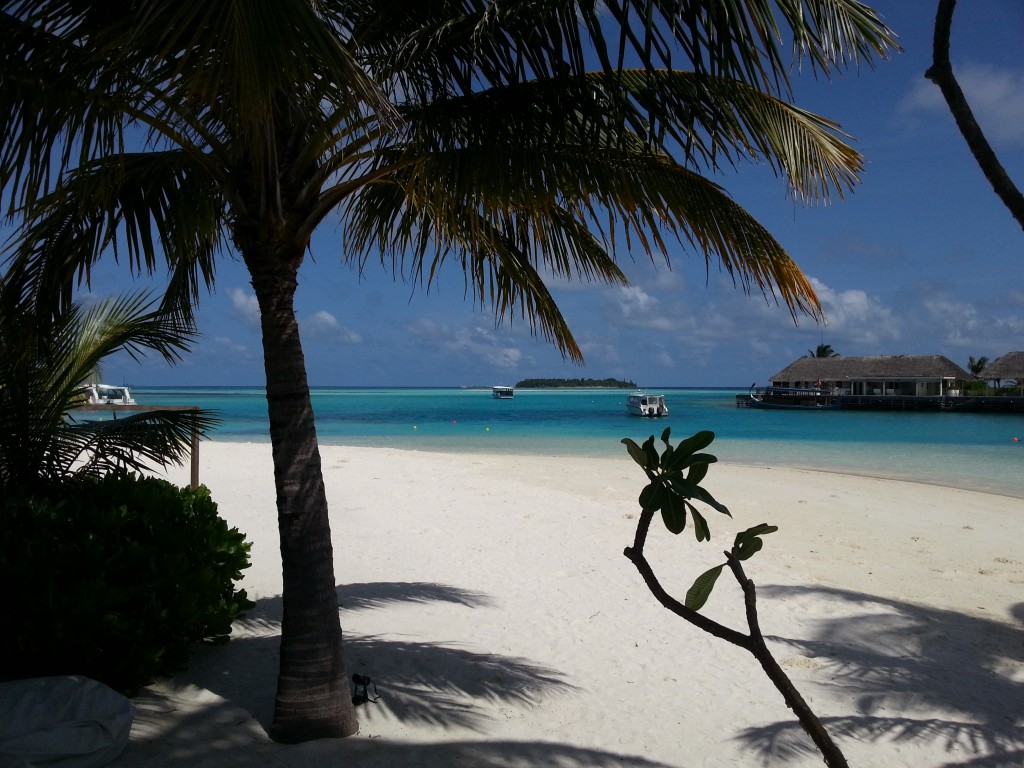 Our previous night's adventure slips away to the archives of the brain. Relax.
Staying at the Holiday Inn Kandooma like most in this archipelago, we are at the mercy of the resort. The island is the resort.
The ocean, a couple of metres from our room, opens it's arms and beckons with a gentle lapping at the shore. We scuttle across the white sand, not yet hot to the touch and slip into the water in which was to become our daily morning ritual. This could be your home away from home. Have the resort provide catering and settle in,  grilling lunches and dinners on your BBQ downstairs next to your beach level living room, oblivious to the rest of the world, which is out there somewhere. There are six types of accommodation scattered across the island all designed to allow privacy. The island is small, you can walk around it in 45 minutes. However there are bays and lagoons where you can disappear into your own private island retreat. Although we see people, the resort is the perfect size and affords guests the privacy usually reserved for Sir Richard Branson and friends on Necker Island.
A seamless move to our Overwater Villa drops us into heaven. For me, THIS is the Maldives. Built over a lagoon. A man made reef break allows the tides to ebb and flow creating an oasis of crystal clear water teaming with fish. The sound of the waves crashing on the break a constant reminder of where you are and a reminder of perhaps how fragile the world is. Without the intervention of man, our protected villas would be open to the seas and the uncertainty of the ocean and the weather. With global warming is it better to take steps to protect our life styles? An ongoing debate and the Maldives has been vocal in urging the world to act. Those most at risk at odds with land locked countries, self interest in the foreground rather than seeing the world as a whole, populated by global citizens.
You can pick out individual grains of sand and follow the fish as they dart back and forth. Our villa sits on stilts allowing the ocean to rise and fall with out lapping at the door. A ramp for easy access to the water, outside shower and bath, deck, uninterrupted ocean views … Waves glide towards you like the silhouette of the invisible man, distorting the shapes of objects as he walks by and you are not sure if you see anything or if your mind is playing tricks on you. With white sand made of desiccated coral the use of reef walking shoes is essential. Now an enjoyable experience rather than one treading carefully through the water balancing and negotiating as you go. Garfish huddle under our new home, parents sheltering their young. Mesmerising, all pointing towards the incoming current, motionless except for a slight flip of the tail to stay in formation. Our lagoon is a playground for the rich and famous, sorry, for fish and villa guests. I have befriended a parrot fish, blue, pink, green and yellow. He weaves in between my legs – aren't most male animals the prettier of the species? I drag my finger along the water as he swims up to enquire, getting close but not too close. Not one for fishing, I get the allure of fly fishing now, jousting with no eventual winner. I am having childish fun. I hope my friend is too, sometimes swimming as his other friends join in and loop around me in a game of catch, which no one ever wins. He is here everyday.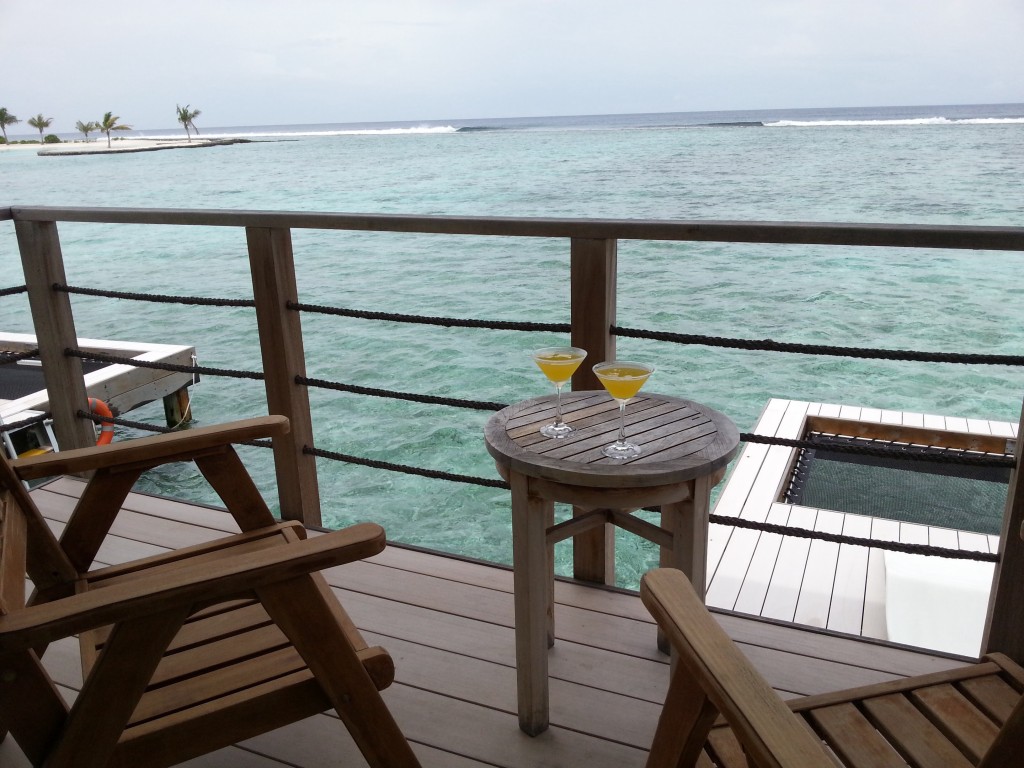 Our friend organises a dinner for us on a private beach as a surprise. Another boat trip worth every minute. Leaving in the late afternoon we arrive to table and chairs set up on sand jetting out into the ocean, candles ready to illuminate the evening as darkness decends. As night falls we rely on the dim of the night lights glowing on moored boats not too far away, the candles and the stars to guide our senses as we enjoy a meal of salads, meat, seafood, dessert and wine. All prepared somewhere in the trees, a catering set up just for us, waiter and chef. The boat ride back a sleigh ride over an ice rink of smooth water.
Joining other guests in the evening at the bar, sharing stories and adventures is a part of travel I love. They can enlighten you and inspire you to take journeys you may not have considered, to try something new and to expand your horizons. We share stories. Mine is the parrot fish and of a day wake boarding among the reefs, others secret beach spots, reef shark encounters, dive trips and good books. Everyone has a story. Staff share their experiences, where they have worked, why they are here and where they hope to work next. Island life can get a little isolating if you are working here. Island fever can take hold and then it's time to move on, however with no regrets. Our friend has since moved to Thailand.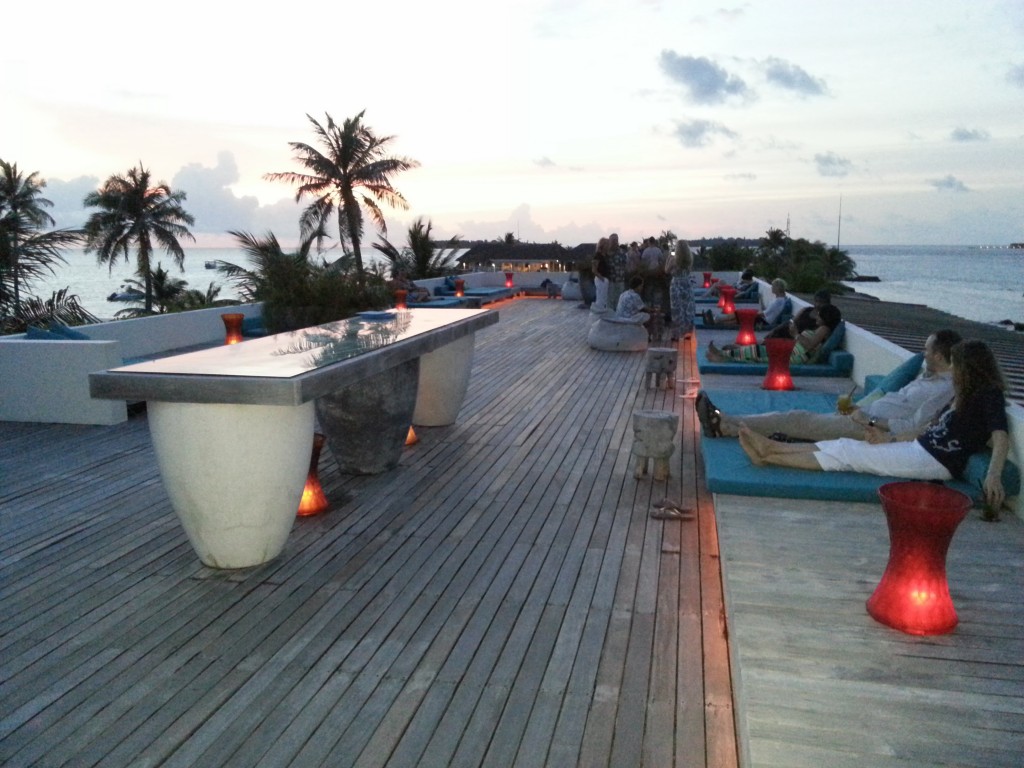 Leaving a vacation is always difficult, like pulling teeth as a child, something that needs to be done and the quicker the better. Our flight leaves at 1 am so we can slip away without noticing the sand, surf and sun we are leaving behind.
We are prepared for the journey this time and others join for the 45 minute cruise to the airport. With the lights of Male airport approaching there is a sudden silence as we are plunged into darkness, set a drift, our engines exhausted not wanting to complete the journey. Even my heart jumps, suddenly all senses set to overload as eyes adjust and reality hits. Horror doesn't really capture the look on everyone's faces. OK captain, kids, DO something. Drifting back to our resort could be ok but swept out to sea washed up on a reef or captured by pirates is not. Engines up, open, screw drivers out. Our boat driving cowboys are on to it. Problem fixed, thinking this may be a regular occurrence, we are off. Radio the plane, triple vodkas please.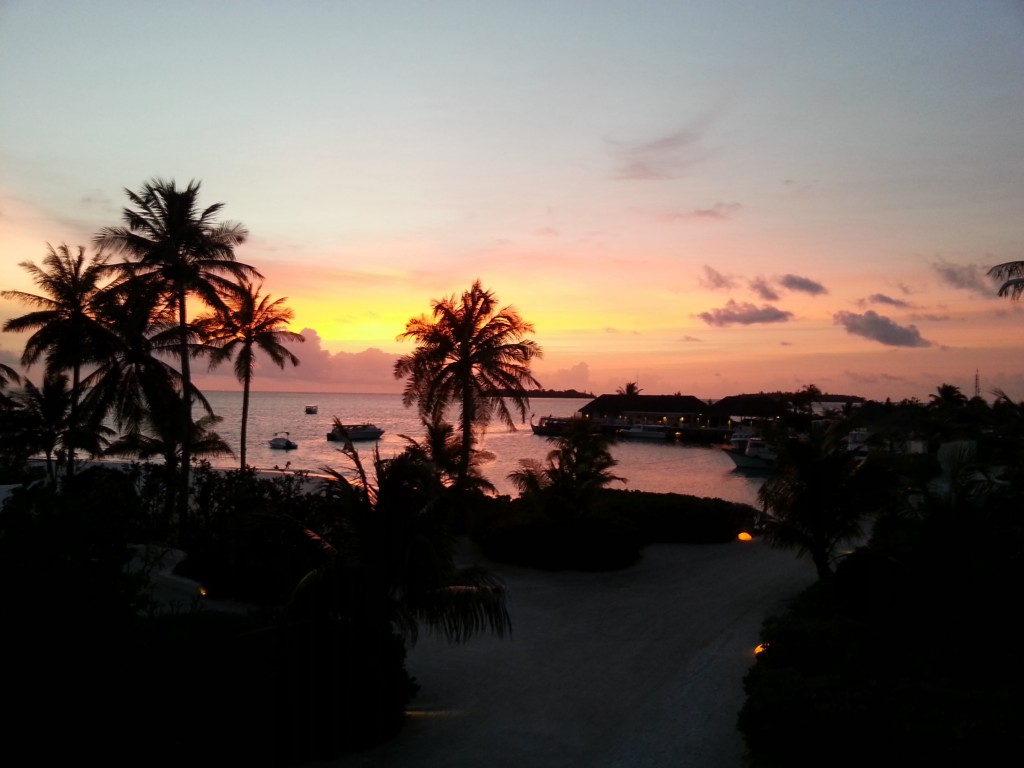 We will be back to enjoy the Maldives, it's beauty and it's hospitality. Arriving and leaving in day light next time to really appreciate such a spectacularly beautiful part of the world.