Marylebone in London's inner city is one of my favourite places to eat. Leaving the madness of Oxford street and the throngs of tourists behind a block back it is a different world. I do however take the opportunity to get my Nespresso fix in Selfridges stocking up and sampling one their latest limited editions. London is an incredible blend of interwoven streets housing bars, coffee shops and restaurants. A far cry from the early 80's, London has found its place on the culinary stage and stands there with pride amongst the best. Although it's always disappointing to witness the plague of chain establishments smothering the sidewalks we try to seek out places with individuality and spark. Staff with passion and enthusiasm. I am meeting a great friend. Once a month or so we take turns and select a venue. Always  different to the last. My choice this time.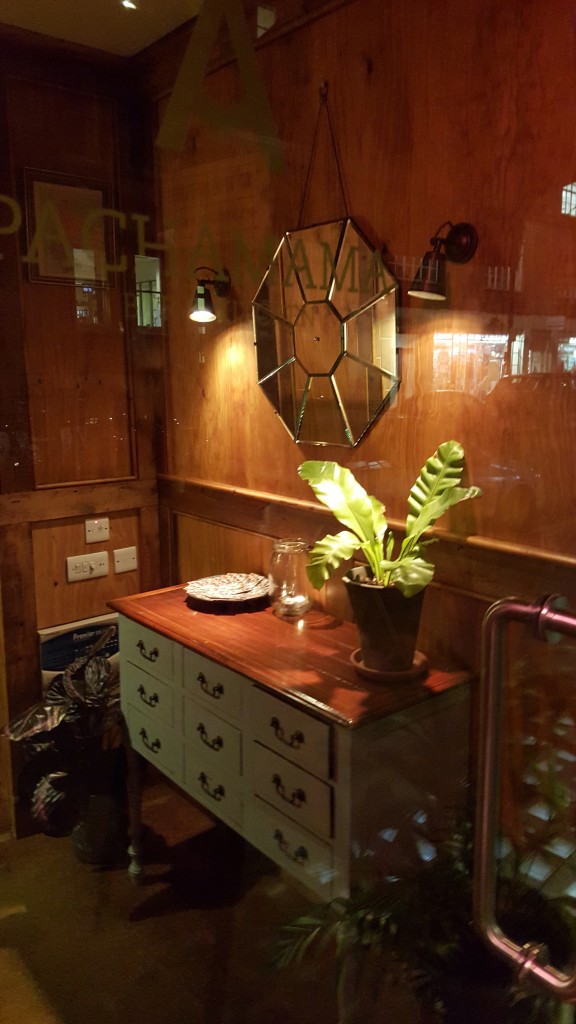 I am a visual learner. Tell me something and I admit I'll probably forget it. Show me and I'll remember. I have even resorted to placing an office size calendar on the fridge as a visual reminder of things to come. Arriving at the entrance to the restaurant and seeing the door I realise I have been here before. I didn't book last time so no visual reminder of the restaurant web site, that's my excuse. Besides we haven't been here together.  Down the steps into the basement Pachamama Bar and Kitchen opens up to a scattering of cushioned benches, tables high and low and a long bar.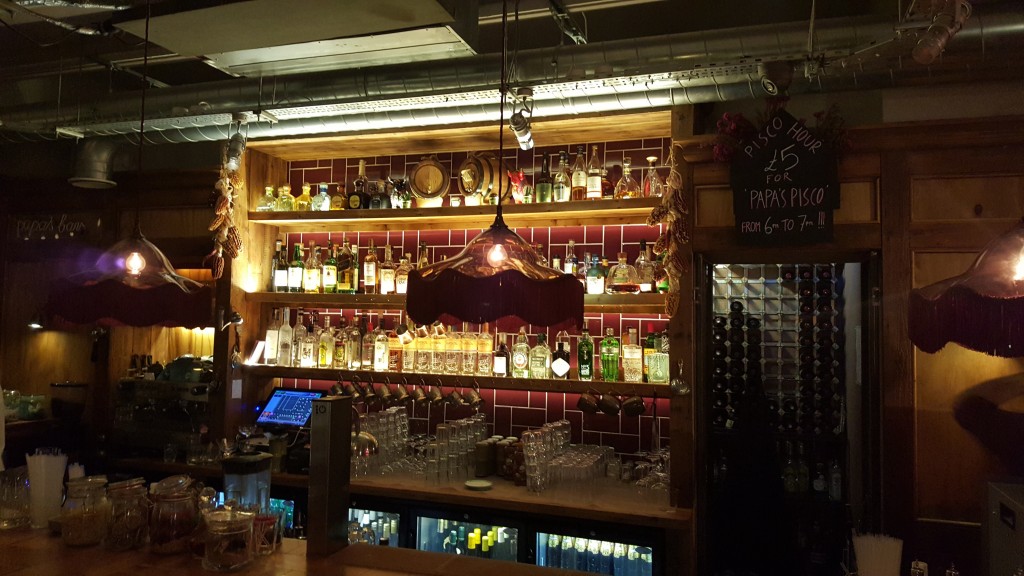 I arrive first and settle in with a happy hour pisco sour. Pisco, limes, bitters and sugar, whipped. The grapes in Peru are not good enough for wine so the make Pisco (brandy) according to our waiter. Happy hour from 6-7. One hour. I never quite get the idea of all day 'happy hours'. Although I have been known to indulge if the offering is there. Do I have the naive understanding that they are to draw people in, let them sample things and then stay to buy more drinks at full price? Or they are to entice people to stay on and buy dinner at full price or to sample a cocktail in an endeavour to keep people there and buy more at full price. Or maybe is it to stay on and get smashed, perhaps leaving to find the next happy hour(s) doing a happy hour crawl, literally, until everything you have consumed ends up on the pavement and on someone's shoe as they walk to work in the morning, when you have long since retired with a box of paracetamol.
My companion arrives. She is enjoying a low carb diet having cut out sugar as much as possible for a month and she is, as always, looking amazing. One taste of my Pisco sour and all bets are off. She has will power and will slip back into her new routine tomorrow. This is our monthly catch up, chat and get together. Still clinging on she orders a gin and slim line. I order a glass of wine. OK let's get the bottle. No arm twisting on my part. Our dinners are usually week nights in at 630 out by (usually) 930. It's a school night after all.
The restaurant fills with people. Next to us Carrie, Charlotte, Miranda and Samantha. Sex and the City London style. All carrying huge shopping bags, bigger than small bears.  Samantha arrives and sheds her faux fur. I grab my cactus saving it from an inevitable drop to the floor or an impossible to remove entanglement, as it flicks our table and she unveils a stunning dress. The waiter is quick to whisk it away and replaces it with a plastic coat check tag. Perhaps a great ice breaker as we try to remove each spike, prick by prick. They are glamorous, loud and fabulous. Food, alcohol and great friends. Perfect.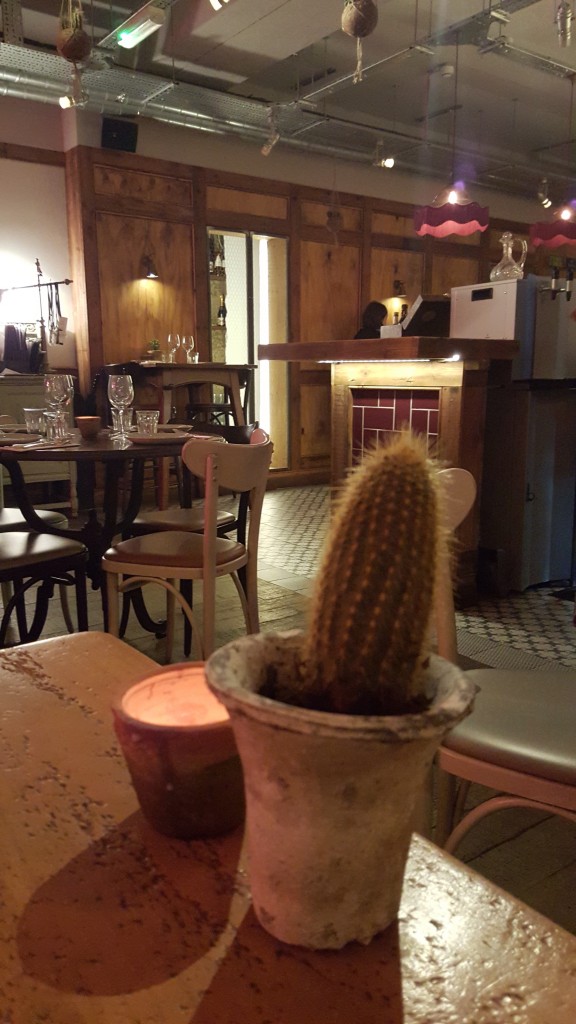 Our waiter introduces us to the restaurant. Mama in the kitchen she loves to cook. Papa at the bar. Well he likes to drink. Passion and enthusiasm. Our menu invites you to the Sea, the Land and the Earth. Eight or so choices from each. Tapas style. He suggests 3-4 per person. We order a couple, a couple more, a couple more … To finish we revisit our favourites. Chicharrones – pork belly,  sea bass cerveche and a side of Padron peppers.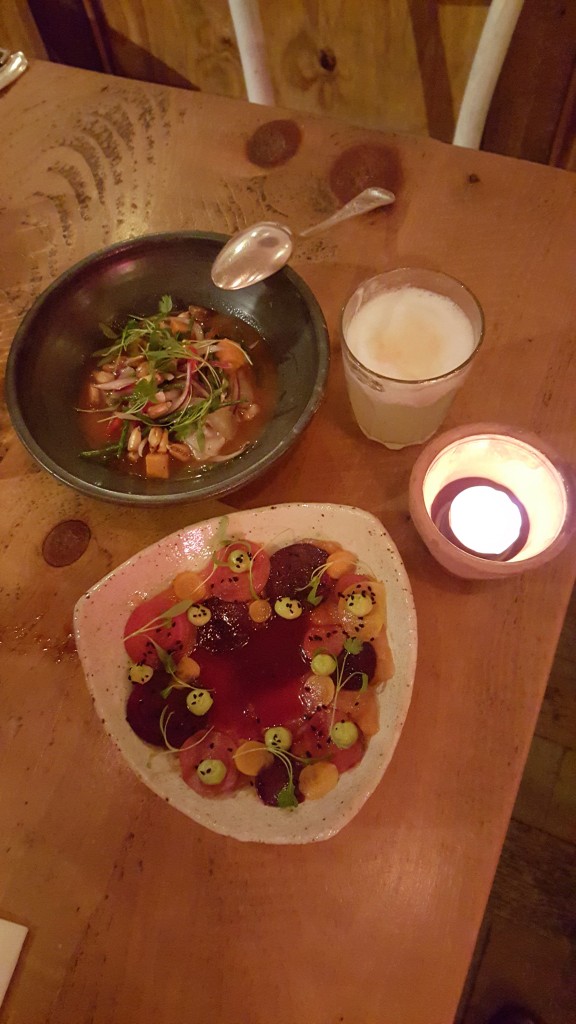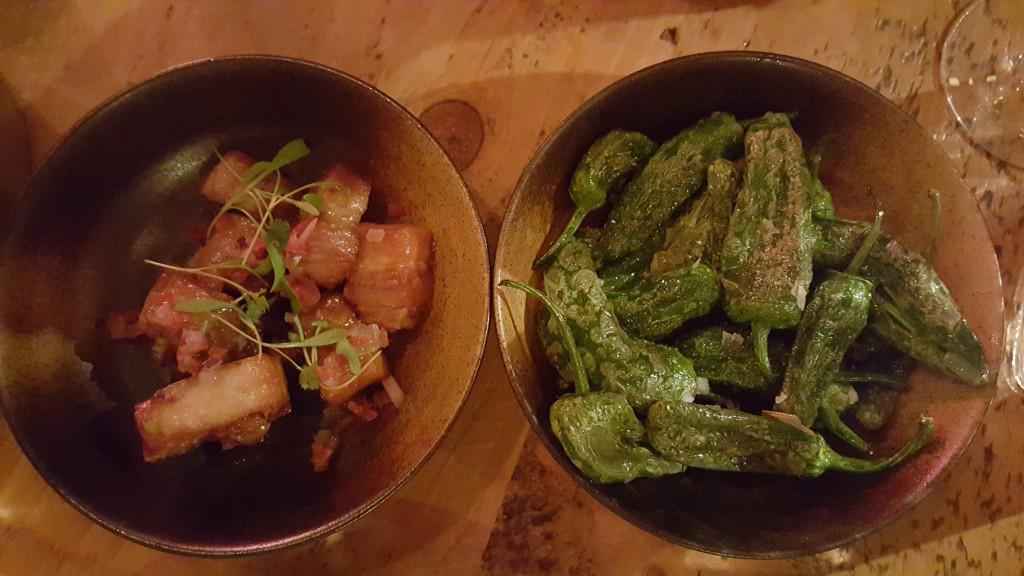 No dessert tonight. We grab the bill, ascend the stairs and step out into the fresh London night air. Oxford Street has one more advantage being a hub for transport shooting out in all directions, tube buses and taxis allowing an easy transition from out to home. However don't stay out past 1130pm or so. London transport still shuts the city at night stranding you at the mercy of taxi fares, Uber or night busses. Good luck getting home on these stopping at every pit stop and watering hole around the city.
A kiss on the cheek and we head our separate ways. We'll meet again soon. Her selection next. Although I already have a yummy venue selected for my next choice.